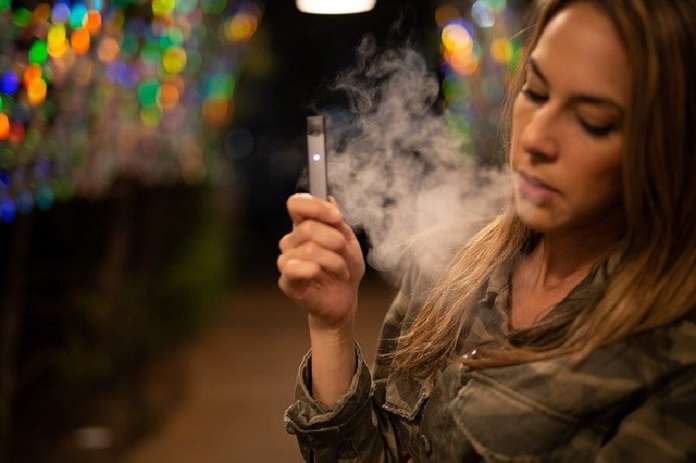 A recent study looked at the social factors that influence teenagers to use e-cigarettes in general, and JUUL-brand e-cigarettes in particular.
In the past decade, the prevalence of e-cigarettes has increased rather quickly. Particularly alarming, however, is the increase in teen use of e-cigarettes.
According to one study, e-cigarette use in high school students has increased from 11 percent in 2017, to just over 20 percent in 2018. The frequent use of e-cigarettes has doubled between these years, from 2.5 percent to nearly 6 percent.
In particular, JUUL has dominated the market since the fall of 2018. While in 2017, JUUL has only held a quarter of the market share, by 2018 it held over 70 percent. The appeal of JUUL products, particularly to a younger consumer, has forced the company to reduce its advertisement efforts and the production of flavored nicotine products.
Nevertheless, relatively few studies looked at JUUL, and little is known about the social factors that led to an increase in adolescents' use of e-cigarettes. To try and understand these details better, a team of researchers from the United States designed a survey study of 4183 adolescents in grades 9 to 12 in New Jersey schools.
Discordance between reported use of e-cigarettes and JUUL
As published in JAMA Network Open, the researchers asked respondents about their use of cigarette products and e-cigarettes in general, as well as JUUL specifically. They also asked about whether the respondents recently liked, followed, or became a fan of tobacco-branded products on social media. In addition, several questions targeted peer use, asking whether their closest friends used JUUL products and whether they had seen anyone on school grounds use JUUL.
The results indicated that a significant proportion of the adolescents who did not answer affirmatively to e-cigarette use, did, in fact, report having used JUUL products. Such discordance, between reporting the use of a specific brand and general use of e-cigarettes, was found particularly within JUUL users, female, and non-white responders. Additionally, high school seniors were the most likely to report frequent use of e-cigarettes (i.e. on 20 or more days in the preceding 30 days).
JUUL is the most commonly used e-cigarette product among high schoolers
The results further demonstrated that JUUL was the brand used by 90 percent of the responders that indicated using e-cigarettes. Not only was JUUL the most common e-cigarette product used, but nearly half of the students reported initiating the use of nicotine products with JUUL.
Furthermore, having close friends that use JUUL was associated with current and frequent use of e-cigarettes, particularly JUUL. Seeing JUUL in school was likewise associated with current and frequent use of e-cigarettes. The researchers note that while most schools had policies about e-cigarettes, and half included JUUL in particular, the discreet appearance of JUUL products and the difficulty in locating the vapor source, were frequently reported as major barriers. Social media exposure to branded tobacco merchandise was associated with use of e-cigarettes.
Monitoring specific brands may improve our understanding of consumption patterns
The authors report that their study has focused on a small subsection of the population, that is, adolescents in New Jersey. Thus, it may not be generalizable nationally or globally. However, they note, the data were reported to mirror those of national surveys. Nevertheless, these results do shed light on the prevalence of JUUL products and patterns of e-cigarette use in adolescents.
The authors suggest that, given the potential detrimental effects on public health, monitoring of brands such as JUUL is warranted. They further suggest that measures of brand-specific use of e-cigarettes can more accurately assess adolescent use. It may also be beneficial, the authors note, to alter the policies regarding e-cigarette brands' use of social media marketing.
Written by Maor Bernshtein
Reference: Hrywna, M., Manderski, M. T. B., & Delnevo, C. D. (2020). Prevalence of Electronic Cigarette Use Among Adolescents in New Jersey and Association With Social Factors. JAMA Network Open, 3(2). doi: 10.1001/jamanetworkopen.2019.20961
Image by Ethan Parsa from Pixabay