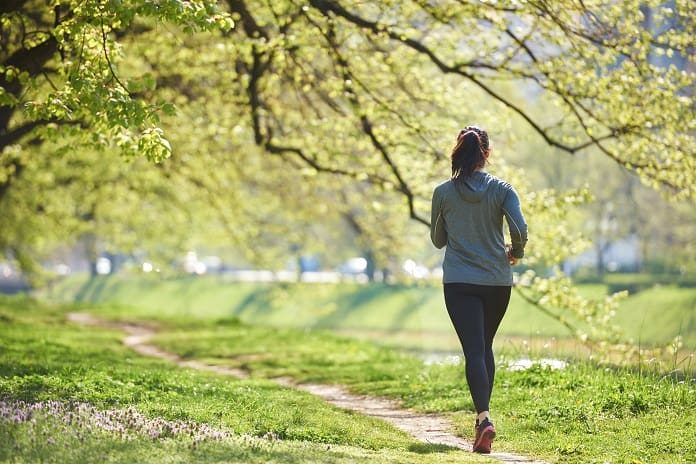 Los investigadores de la Universidad de Copenhagen estudiaron como haciendo ejercicio en horas diferentes del día podría tener efectos diferentes con metabolismo.
Ritmos circadianos son funciones biológicas que se ocurren repetidamente sobre periodos de 24 horas. Algunos ritmos diarios, cómo la alimentación, son fáciles para identificar, mientras otros son menos obvios porque se ocurren al nivel celular. Estas funciones son baja el control estrictico del reloj central, que se encuentra en el cerebro y sincroniza con ciclos de luz/oscuridad del ambiente a través el nervio óptico. Ejercicio físico es una de las muchas formas nuestro cuerpo pasa energía, y el gasto de energía tiene un papel importante en la regulación del metabolismo de un individuo. Los efectos positivos de ejercicio en nuestro metabolismo son bien conocidos. Sin embargo, el momento ideal de ejercicio en términos de beneficios de la salud es una pregunta abierta todavía. Investigadores de la Universidad Copenhagen, en colaboración con compañeros de la Universidad de California, Irvine, establecieron para descubrir si es mejor para hacer ejercicio en la mañana o en la noche. Sus resultados fueron publicados en Cell Metabolism.
El estudio utilizó un modelo ratón para averiguar cómo el momento de ejercicio impacta el metabolismo.
Para investigar los efectos de hacer ejercicio en horas diferentes con metabolismo, los científicos dividieron ratones en dos grupos. Un grupo de ratones hizo ejercicio al comienzo de la fase de oscuridad, que está el equivalente de nuestra mañana, mientras el otro grupo hizo ejercicio al comienzo de la fase de la luz, que corresponde a nuestra noche. Cada grupo fue dividido en dos sub-grupos, que incluyó ratones que hicieron el ejercicio, y ratones que no lo hicieron, proveyendo un grupo de control para comparación. Los investigadores que llevaron a cabo un serie de pruebas para evaluar cómo el ejercicio en tiempos diferentes del día influiría expresión génica y el metabolismo.
El Metabolismo responde diferentemente basado en el momento de ejercicio
Las experimentas llevaron a cabo por los científicos revelaron que ejercicio causó los cambios importantes en el metabolismo de ratones. Ejercicio físico en la mañana activó genes en células cómo que los músculos serian más eficientes en la metabolización de graso y azúcar. En contrasto, ejercicio de la noche causó el metabolismo a mover en una manera a pasar la energía por un periodo de tiempo extendido. La repuesta metabólica después el ejercicio en la mañana apareció más fuerte que en la noche, y es probable que involucra el funcionamiento de HIF-alfa, una proteína que tiene un papel en la regulación del reloj circadiano del cuerpo.
Mientras estas experimentas descubrieron que ejercicio en la mañana tenía un impacto más fuerte con el metabolismo de ratones, la evidencia producida no es suficiente para determinar si es mejor para hacer ejercicio en la mañana o en la noche. Más estudios investigaran los efectos el momento de ejercicio en humanos, y proviene percepciones que podrían potencialmente traducir en enfoques terapéuticos para personas con trastornos metabólicos.
Escrito de: Raffeale Camasta, PhD
Traducido de: Danielle Dinally (DD)
Cita de Referencia:
Eckel-Mahan, K., & Sassone-Corsi, P. (2013). Metabolism and the Circadian Clock Converge. Physiological Reviews, 93(1), 107–135.
Exercise may have different effects in the morning and evening. https://www.eurekalert.org/pub_releases/2019-06/uoct-emh061319.php
Oike, H. (2017). Modulation of circadian clocks by nutrients and food factors. Bioscience, Biotechnology and Biochemistry, 91(5), 863-870.
Sato, S., Basse, A. L., Schönke, M., Chen, S., Samad, M., Altıntaş, A., Laker, R. C., Dalbram, E., Barrès, R., Baldi, P., Treebak, J. T., Zierath, J. R., & Sassone-Corsi, P. (2019). Time of Exercise Specifies the Impact on Muscle Metabolic Pathways and Systemic Energy Homeostasis. Cell Metabolism.