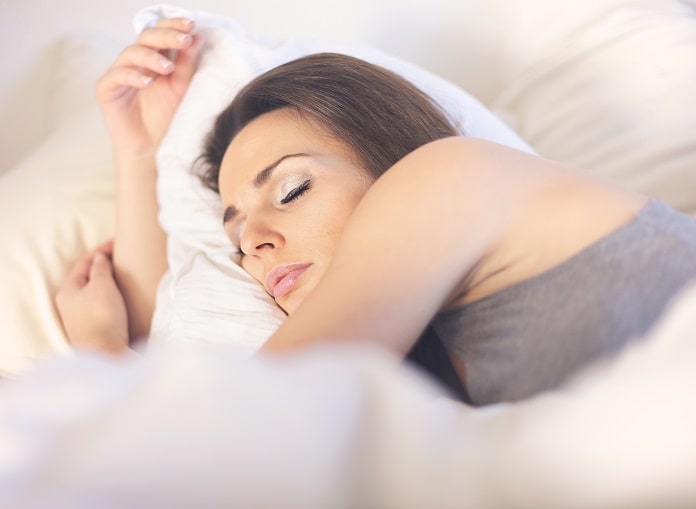 Have you ever experienced a night of tossing and turning, just to wake up with only a few hours of restful sleep? Researchers from the Columbia University Irving Medical Center hypothesized that these types of restless nights can be a contributor to the development of type 2 diabetes, obesity, and cardiovascular disease. One common factor among them all can be identified: a poor diet.
The cross-sectional study published in the Journal of the American Heart Association focused on women from diverse ethnic backgrounds and age ranges, and the relationship between overall diet quality and sleep quality. Specifically, both subclinical and clinical measures of sleep quality were determined and then compared to individuals' energy and macronutrient intake as well as the intake of specific foods associated with disease risk. As the first study of its kind to focus specifically on both sleep quality and insomnia, the researchers hoped that the results would provide a more comprehensive understanding of the relationship between sleep quality and chronic disease risk.
Nearly 500 women participated in the study, with their ages ranging from 20 to 76 years old. Sleep quality was measured using two validated self-reporting questionnaires that focused on sleep quality, the time it took to fall asleep, and insomnia severity. Dietary patterns were identified from a questionnaire that reported the types and amounts of foods typically eaten throughout the year.
Supported by previous studies, a relationship was established between poor sleep quality and caloric intake of the amount and types of food consumed. The results of the study determined that poor sleep quality was associated with higher energy intake and lower-quality diets. Moreover, the increased consumption of certain nutrients and foods associated with increased disease risk (such as sugar) were observed. However, poor sleep quality was found to be inversely related to total fat intake. The data showed that individuals with "good sleep" had 45% of their caloric intake from unsaturated fats, thus supporting the relationship between good quality sleep and healthier dietary fat intake. It was viewed that poor sleep quality affected hunger and satiety signals, thus leading to excessive food and energy intake.
Women who took a longer time to fall asleep reported a higher caloric intake and a greater intake of food by weight. If interpreted directionally, the researchers hypothesized that a longer sleep-onset latency could lead to overeating behaviours. It was also hypothesized that the diet quality could affect the sleep-onset latency, with a greater intake of food weight causing gastrointestinal discomfort that would make falling asleep harder.
Lastly, the presence of insomnia was associated with a significantly greater intake of food by weight. The more severe insomnia, the greater the weight intake. The researchers believed this may have been caused by insomnia's influence on the hippocampus of the brain, a structure that regulates food intake and eating behaviours. As fullness is a quality that is achieved through food consumption, a greater consumption of food may be an effort to feel satiated.
Brooke Aggarwal, a senior author of the study, included methods to counter the overconsumption phenomenon experienced in these individuals. The belief was that by eating a diet of lower energy density foods, larger food proportions could still be consumed but the risk of disease development would not be as prevalent. Lower energy density foods would maintain a lower caloric intake but still promote satiety.
The study, the first of its kind, provided conclusions that could support future research into developing lifestyle interventions for women to prevent obesity, type 2 diabetes, and cardiovascular diseases.
Written by Stephanie Tsang
References:
Zuraikat, F. M., Zuraikat, F. M., Makarem, N., Liao, M., Aggarwal, B., Aggarwal, B., … Department of Medicine. (2020, February 17). Measures of Poor Sleep Quality Are Associated With Higher Energy Intake and Poor Diet Quality in a Diverse Sample of Women From the Go Red for Women Strategically Focused Research Network. Retrieved from https://www.ahajournals.org/doi/10.1161/JAHA.119.014587
Garey, H. (2020, February 17). The skinny on why poor sleep may increase heart risk in women. Retrieved from https://www.eurekalert.org/pub_releases/2020-02/cuim-tso021320.php