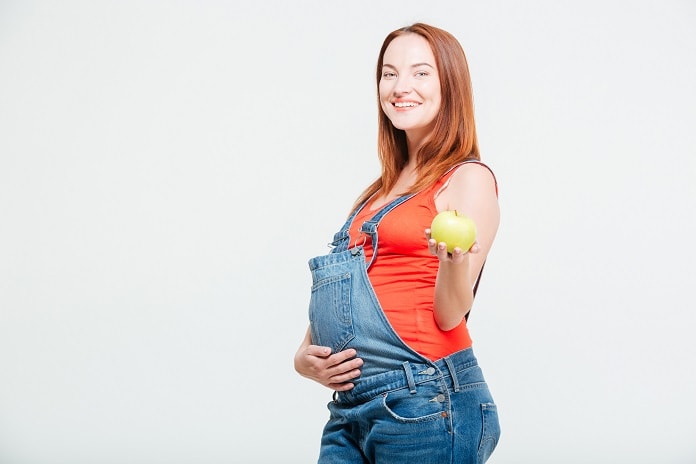 The use of a keto diet, which involves high fat and low carbohydrate levels, is controversial and not usually recommended during pregnancy.
A ketogenic diet is a high fat, low carbohydrate, and adequate protein diet. It is a popular lifestyle diet for weight maintenance and body building. In addition to weight loss, the keto diet can help regulate blood sugar levels and normalise menstrual periods.
It is more difficult for the body to use fats as fuel in comparison to carbohydrates. For this reason, people who are on the keto diet are advised to eat less than 50 grams of carbohydrates per day, whilst increasing the fat requirement. The reasoning for this is to obtain most of your daily calories from fats in order to stimulate the natural burning of body fat.
Doctors sometimes recommend the keto diet for people with medical conditions, including diabetes, polycystic ovary syndrome (PCOS), and epilepsy. However, choosing to remain on a keto diet during pregnancy is controversial since it involves burning fat through ketosis. Ketosis is when fats are used to burn energy rather than carbohydrates. This causes the liver to produce ketones, which replaces glucose as an energy source.
Here we provide an overview of the potential benefits and risks of a keto diet during pregnancy:
There is some suggestion that a keto diet can be beneficial during pregnancy, particularly for women who are overweight or obese.
Eating a low carbohydrate, high fat diet, including foods such as celery, cauliflower, eggs, fish, meats, avocado, and cheese, has been associated with a reduced frequency of morning sickness, nausea, miscarriage, pre-eclampsia, and gestational diabetes.
There is some evidence to suggest that a keto diet may help manage seizures in pregnant women who suffer from epilepsy. A study published in Seizure found that symptoms of epilepsy were able to be controlled using keto therapy in two pregnant women. These women had normal, healthy pregnancies with reduced seizure frequency. Mild side effects included lowered vitamin levels and raised cholesterol levels. However, more investigation is required to evaluate the benefits and risks, as well as long term side effects, of using the keto diet in the management of epilepsy.
Risks of a keto diet during pregnancy
Although the keto diet is normally used to lose weight, a diet during pregnancy is not advised. Eating a balanced diet becomes even more important during pregnancy as the growing baby requires foods that are rich in vitamins, nutrients, minerals, iron, and folate. Since fruits and vegetables are high in carbs and natural sugars, their consumption has to be limited in the keto diet. An inadequate level of nutrient intake can lead to problems in the baby's growth and development.
Eating carbohydrates during pregnancy is important since grains like wheat flour, rice, and pasta are rich in folic acid, which is critical for fetal development. Since protein is part of the keto diet, it can cause people to eat foods that are higher in saturated fat. Although healthy fats are vital for pregnant women and the growing baby, excessive saturated fat can lead to health problems, including higher cholesterol levels.
Animal studies have found that a keto diet during gestation can lead to changes in embryonic organ growth, such as a larger heart and a smaller brain. This may be associated with organ dysfunction and behavioural changes. A study published in BMC Pregnancy and Childbirth found that a low carbohydrate diet in pregnant mice caused smaller brain development and neurobehavioural changes in offspring. Another study published in Brain and Behavior discovered that pregnant mice on a keto diet had babies that were more likely to suffer from anxiety and depression in adulthood.
The keto diet can cause side effects, known as the 'keto flu'. This can consist of fatigue, dizziness, nausea, headaches, and muscle cramps. This adds to the side effects that already exist in pregnancy.
A keto diet increases the risk of starvation ketoacidosis, which is a metabolic issue caused by a dangerously high level of ketones. This usually occurs after the body is deprived of glucose as the primary source of energy for a sustained period of time and leads to acidity in the blood. Since ketones can pass freely through the placenta to the baby, a keto diet is generally not advised during pregnancy.
There is evidence that a low carbohydrate can aid the management, treatment, or prevention of gestational diabetes, which is a type of high blood sugar that occurs during pregnancy. A study published in International Journal of Case Reports and Clinical Images found that a low carbohydrate diet lowers the need for insulin. However, it may not be necessary to completely adhere to a keto diet to reduce your risk of gestational diabetes.
It is essential that pregnant women eat a balanced diet with a combination of fats, protein, and carbohydrates. Eating a low carbohydrate diet that has an adequate level of healthy fats, protein, fibre, fruits, and vegetables may be more suitable than a keto diet during pregnancy. The health and development of the fetus should always be the priority. Please consult a doctor if you are planning on following a keto diet or other eating plan during pregnancy.
Written by Albina Babu, MSc
References:
Is low carb and keto safe during pregnancy? (2019). Diet Doctor. Retrieved from: https://www.dietdoctor.com/low-carb/keto
van der Louw, E.J., et al. (2017). Ketogenic diet therapy for epilepsy during pregnancy: a case series. Seizure, 45, pp.198-201.
Sussman, D., et al. (2013). Effects of a ketogenic diet during pregnancy on embryonic growth in the mouse. BMC Pregnancy and Childbirth, 13(1), pp.109-120.
Sussman, D., Germann, J. and Henkelman, M. (2015). Gestational ketogenic diet programs brain structure and susceptibility to depression & anxiety in the adult mouse offspring. Brain and Behavior, 5(2).
Tóth, C. and Clemens, Z. (2014). Type 1 diabetes mellitus successfully managed with the paleolithic ketogenic diet. Int J Case Rep Images, 5(10), pp.699-703.