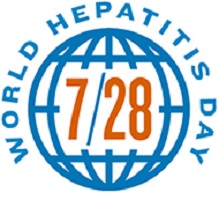 On World Hepatitis Day, Medical News Bulletin celebrates the latest in hepatitis prevention, screening, and treatment research.
World Hepatitis Day takes place on July 28th each year, coinciding with the birthday of the late Dr. Baruch Blumberg. Dr. Blumberg made significant contributions to the study and prevention of hepatitis B, one of the five strains of viral hepatitis that include hepatitis A, B, C, D, and E. All hepatitis viruses can cause inflammation of the liver, which may progress to liver disease, liver failure and liver cancer. Hepatitis poses a major global health concern. Currently, 325 million people are living with hepatitis B or C, leading to 1.4 million deaths a year 1.
Nine in ten people living with viral hepatitis are unaware of their condition
World Hepatitis Day is a global public health campaign initiated by the World Health Organization (WHO) to promote awareness and inspire action to eliminate viral hepatitis by 2030. The theme of World Hepatitis Day 2019 is "Invest in eliminating hepatitis", which urges policymakers to fund hepatitis prevention, testing, and treatment services. The high mortality associated with this deadly virus is partly attributed to low diagnostic rates.  According to the World Hepatitis Alliance, 9 out of 10 people living with viral hepatitis are undiagnosed and untreated 2.
In support of this year's World Hepatitis Day campaign, Medical News Bulletin is sharing the latest innovations related to hepatitis prevention, screening, and treatment strategies. These developments in hepatitis research set the stage for eliminating hepatitis as a public health threat by 2030.
Hepatitis C vaccines under investigation
While prophylactic vaccines exist for the prevention of hepatitis A and B infections, the development of a hepatitis C vaccine has been challenging due to the genetic variability of the virus. HCV vaccines currently under investigation are designed to trigger a host immune response through the generation of protective antibodies or T-cells. Currently, the majority of experimental HCV vaccines in early clinical trials adopt the mechanism of T cell-mediated immunity 3. A 2014 study in healthy volunteers showed that an adenovirus-based HCV vaccine was well-tolerated and induces a T-cell response from the host immune system 4.
Point-of-care tools for large-scale, fast and reliable hepatitis screening
The diagnosis of hepatitis-infected individuals typically requires a blood sample and laboratory testing for the presence of viral antigens or host antibodies to the virus. Recently, advances in rapid diagnostic technologies have enabled faster and more simplified means of hepatitis screening. Point-of-care assays allow people to be tested and obtain their results during the same visit. New approaches in point-of-care testing utilize more accessible sample fluids than venous blood. The Oraquick HCV Rapid Antibody Test, developed by Orasure Technologies, tests for hepatitis C antibodies in either finger-prick blood or oral fluid. In a 2014 clinical study from New Hampshire, researchers concluded that the OraQuick HCV Rapid Antibody Test performed well as a screening tool during a hepatitis C virus (HCV) outbreak investigation 5.
Direct-acting antiviral agents represent a new class of oral hepatitis drugs
If untreated, hepatitis B and C can progress to chronic disease, thus new medications are required to halt and/or eradicate the virus from the body. Hepatitis C treatment has traditionally relied on interferon-based therapies. Despite their potent antiviral activity, interferons are typically associated with poor tolerability, harsh side-effects, and long treatment regimens6. In 2011, the introduction of direct-acting antiviral agents (DAAs) marked a new class of oral hepatitis drugs that were safe and effective over a shorter treatment period. Recently it was demonstrated that treatment with DAAs was associated with a 93% cure rate among HCV patients, according to a 2018 Italian study7. Continued innovations in DAA therapy have resulted in second generation drugs such as Epclusa (sofosbuvir/velpatasvir) that are approved to treat all genetic variations of the hepatitis C virus8.
With the arrival of novel candidates for hepatitis vaccines to prevent transmission, point-of-care tests for population screening, and therapeutic strategies for treatment, the stage is set to address viral hepatitis on a global scale.
Written by Cheryl Xia, HBMSc
References:
World Hepatitis Day 2019. World Health Organization Available at: https://www.who.int/campaigns/world-hepatitis-day/2019.
Taylor, B. 290 MILLION WORLDWIDE UNAWARE THEY ARE LIVING WITH DEADLY VIRUS. World Hepatitis Alliance (2018). Available at: http://www.worldhepatitisalliance.org/news/jul-2018/290-million-worldwide-unaware-they-are-living-deadly-virus.
McConnell, M. & Lim, J. K. Hepatitis C Vaccine Development in the Era of Direct‐Acting Antivirals. Clinical Liver Disease 12, 118–121 (2018).
Swadling, L. et al. A human vaccine strategy based on chimpanzee adenoviral and MVA vectors that primes, boosts, and sustains functional HCV-specific T cell memory. Science Translational Medicine 6, 261ra153-261ra153 (2014).
Gao, F. et al. Performance of the OraQuick HCV Rapid Antibody Test for Screening Exposed Patients in a Hepatitis C Outbreak Investigation. Journal of Clinical Microbiology 52, 2650–2652 (2014).
Zając, M. et al. Hepatitis C – New drugs and treatment prospects. European Journal of Medicinal Chemistry 165, 225–249 (2019).
Calvaruso, V. et al. Incidence of Hepatocellular Carcinoma in Patients With HCV-Associated Cirrhosis Treated With Direct-Acting Antiviral Agents. Gastroenterology 155, 411-421.e4 (2018).
Chahine, E. B., Sucher, A. J. & Hemstreet, B. A. Sofosbuvir/Velpatasvir: The First Pangenotypic Direct-Acting Antiviral Combination for Hepatitis C. Ann Pharmacother 51, 44–53 (2017).