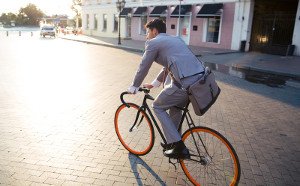 A large-scale UK study has found that active commuting to work, even if using public transportation, is associated with reductions in BMI and percentage of body fat in mid-life.
The rise in obesity in Western countries is largely attributed to physical inactivity. A recent study published in the Lancet Diabetes & Endocrinology has assessed whether active commuting to work has any real effects on the occurrence of obesity in mid-life.
The study, conducted by researchers from London, UK, made use of data from the UK Biobank. This included data from 72 999 men and 83 667 women between 40 and 69 years of age from 2006-2010.
The study reported that actively commuting to work was significantly associated with a reduction in BMI and body fat percentage, for both men and women. When compared with people who drove to work, those who used both public and active methods of transport had significantly reduced BMI and lower percentage of body fat. Although there was a significant difference in BMI and body fat in people who used public transport, the greatest associations were found for those who cycled to work, compared with those who drove. The difference in weight between these two groups was 5kg (11lbs). Walking to work was found to be the next-best mode of active commuting in terms of reductions in BMI and body fat percentage.
These effects were not associated with other factors, including income, education, smoking, other physical activity, or disability. The authors suggest that the results provide evidence to support community-based interventions in an effort to promote active commuting as a means of combatting obesity.