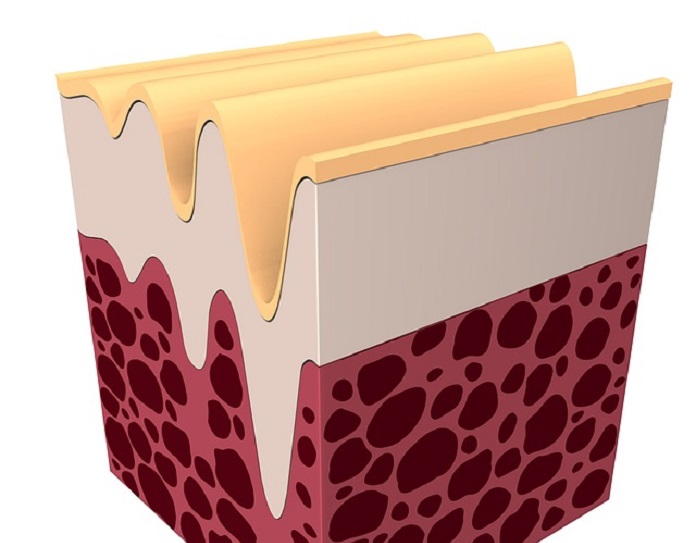 What is collagen?
Collagen is a protein found in the skin, making up the majority of the skin's structure – which helps to keep the skin strong and smooth. Primarily, this occurs because it is able to retain an adequate level of hydration.
Collagen is made up of three 'chains' that intertwine to form what is called a 'triple-helix'. It is this structure that gives the collagen its strength.1
As the skin ages, there is less collagen produced. This means that the skin is no longer supported by the structure of the collagen molecules. As a result, skin can lose its elasticity and wrinkles begin to form.2 In addition to aging, collagen can be affected by factors including sun exposure, pollution, or a deficiency in some nutrients.
Collagen is not just found in the skin, but is also present in bones, skin, muscles and ligaments, and other internal organs. Collagen makes up a significant proportion of proteins found in the body and plays a vital role in many systems.
Types of collagen
Although there are currently 16 known types of collagen, the most abundant in the human body are collagen type I, type II, and type III. Of these three, collagen type I makes up the majority. 3 Type I collagen is primarily found in the skin, bones, organs, and tendons, while type II collagen is the main type found in cartilage. Type III collagen is often found together with type I and forms part of the connective tissue.
Where can collagen be found in food?
There are two ways to get more collagen by eating the right foods. You can either eat foods that contain high amounts of collagen, or eat foods that contain the building blocks and nutrients to help your body produce more collagen.
Foods that contain collagen include gelatin or bone broth – which are derived from the bones and connective tissues of animals.
The protein building blocks (amino acids) can also be used by the body to produce more collagen. These building blocks are found in protein-rich foods such as meat or chicken, fish, diary products, and eggs.
Nutrients that are also important for the body to be able to produce collagen include vitamin C, zinc, and sulfur. These nutrients all play a role in the production of collagen by the body.
Vitamin C is abundant in citrus fruits like oranges, or other fruit and vegetables including strawberries, and peppers.
Sulfur can be found in vegetables like broccoli, or even garlic.
High levels of zinc are present in a wide variety of foods, including chicken and meat, nuts, and dairy products.
What do we know about the health benefits of collagen?
Researchers are increasingly reporting on the benefits of collagen supplements – for more than just the skin.
Collagen for osteoarthritis
The use of collagen for osteoarthritis has been on the rise, primarily due to the promising results that have been reported by clinical trials. In a recent analysis of results from multiple clinical trials, researchers found that people who took collagen supplements had reductions in WOMAC and VAS scores – these scores are indicators of pain and physical functioning. The results of the study found that symptoms of osteoarthritis were reduced in patients who took collagen supplements.4
Collagen for skin health
Collagen supplements have also been investigated for their benefit on skin health. In one clinical trial, women who took a fish-derived type I collagen supplement for 12 weeks reported improvements in skin hydration, elasticity, and density, compared with women who did not take the collagen supplement.2
In another trial, researchers also found improvements in the skin of women who were taking a blend of collagen supplements. This study reported improvements in hydration after six weeks of taking supplements. They also reported improvements in skin wrinkling and elasticity.5
Collagen and bone mineral density
Promising results have been reported for collagen supplements and their potential effects on bone mineral density. One clinical trial tested the effects of collagen supplements in 102 postmenopausal women.6 The women took the supplements for 12 months, and then bone mineral density in their neck and spine was measured. The study reported significant improvements to bone mineral density in these women.
That said, protein isolates can help you meet higher needs due to disease, injury, sports, skin conditions, or appetite loss. It's crucial to look for the following when buying a collagen supplement:
Choose ones with as few simple ingredients as possible. Collagen protein powder should just be collagen protein isolate, a.k.a. collagen hydrolysate, hydrolyzed collagen, or collagen peptides.
Skip the flavored versions. These can contain added sugars, which could upset your GI tract or just add calories where you didn't want 'em. Go for the plain version and add a sweetener to desserts yourself.
Look for a third-party certification. Given the lack of FDA regulation, any time you're choosing a dietary supplement, check if a credible group like the NSF, UL, or USP has tested it for safety before.
References
1. Choi, F. D., Sung, C. T., Juhasz, M. L., & Mesinkovsk, N. A. (2019). Oral Collagen Supplementation: A Systematic Review of Dermatological Applications. Journal of drugs in dermatology : JDD, 18(1), 9–16.
2. Bolke, L., Schlippe, G., Gerß, J., & Voss, W. (2019). A Collagen Supplement Improves Skin Hydration, Elasticity, Roughness, and Density: Results of a Randomized, Placebo-Controlled, Blind Study. Nutrients, 11(10), 2494. https://doi.org/10.3390/nu11102494
3. Molecular Cell Biology, 4th edition. Section 22.3Collagen: The Fibrous Proteins of the Matrixhttps://www.ncbi.nlm.nih.gov/books/NBK21582/
4. García-Coronado, J. M., Martínez-Olvera, L., Elizondo-Omaña, R. E., Acosta-Olivo, C. A., Vilchez-Cavazos, F., Simental-Mendía, L. E., & Simental-Mendía, M. (2019). Effect of collagen supplementation on osteoarthritis symptoms: a meta-analysis of randomized placebo-controlled trials. International orthopaedics, 43(3), 531–538. https://doi.org/10.1007/s00264-018-4211-5
5. Kim DU, Chung HC, Choi J, Sakai Y, Lee BY. Oral Intake of Low-Molecular-Weight Collagen Peptide Improves Hydration, Elasticity, and Wrinkling in Human Skin: A Randomized, Double-Blind, Placebo-Controlled Study. Nutrients. 2018 Jun 26;10(7):826. doi: 10.3390/nu10070826. PMID: 29949889; PMCID: PMC6073484.
6. König, D., Oesser, S., Scharla, S., Zdzieblik, D., & Gollhofer, A. (2018). Specific Collagen Peptides Improve Bone Mineral Density and Bone Markers in Postmenopausal Women-A Randomized Controlled Study. Nutrients, 10(1), 97. https://doi.org/10.3390/nu10010097
Image by naturwohl-gesundheit from Pixabay