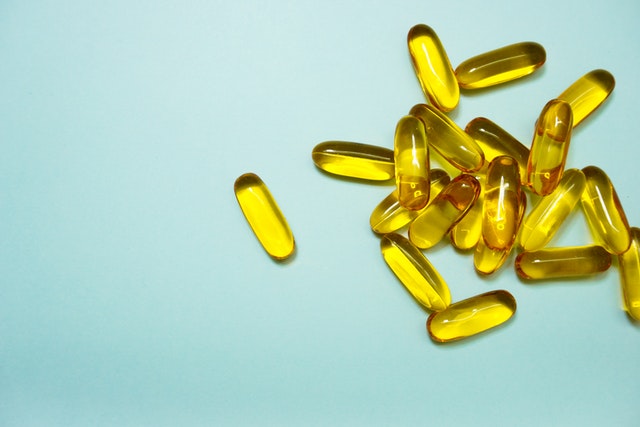 Fish oil supplements come in capsule, pill, or liquid formulations. Fish oil contains essential nutrients, such as omega-3 fatty acids. Omega-3 fatty acids are not produced naturally by the body and must be consumed through food sources, such as fish, flaxseed, walnuts, or canola oil.
This vital nutrient has been shown to improve blood pressure, decrease cholesterol levels, and reduce the risk of heart attack and stroke, and more …
Infertility
A 2019 Danish study reported on the effects of fish oil supplements on testicular function in young males. A total of 1,694 young men participated as part of their fitness examinations for military service. Only 98 out of the 1,694 men reported the use of fish oil supplements. The researchers compared three groups: no fish oil supplement intake, less than 60 days intake, and more than 60 days of intake.
The researchers found that the young men who were taking fish oil supplements had better testicular function than participants with no fish oil supplement intake. Overall testicular function was best in participants who reported an intake of more than 60 days. The research agreed with and supported previous studies that fish oil intake benefitted total sperm count and sperm shape and movement.
Pregnancy
Research on fish intake and pregnancy has shown that there are positive effects on pregnancy outcomes that are associated with high fish intake. A group of researchers conducted a study on the relationship between supplementation with n-3 LCPUFAs, through the use of fish oil supplements, and duration of pregnancy, birth weight, and size for gestational age.
As part of the study, pregnant women were randomly assigned to either take fish oil supplements daily during pregnancy or taking olive oil pills daily. Infants delivered from mothers who were taking fish oil supplements during pregnancy had a higher birth weight in comparison to infants delivered from mothers who did not. In addition, infants born to mothers from taking fish oil were larger for gestational age. In the fish oil group, there was also a two-day increase in the duration of pregnancy compared to the olive oil group.
In this study the researchers found that supplementation with n-3 LCPUFAs had positive effects on three different organ systems in children, indicating that n-3 LCPUFAs could have beneficial impacts on development, which should be studied further.
Fish oil supplementation appears to be a promising supplement, but future research should focus on the quantity and quality of n-3 LCPUFAs in fish oil supplements, as well as if regular supplementation during pregnancy is truly beneficial and relevant to the health of the mother and child.
Breast Cancer
A study analyzed the effects of long chain omega-3 fatty acids on breast cancer growth rates and metastasis to different organs including bone, heart, kidneys, ovaries and contralateral mammary glands in mice. The only difference in their diets was one group was fed plant oils rich in omega-6 polyunsaturated fatty acids while the other group's diet contained fish oil rich in long-chain omega-3 polyunsaturated fatty acids.
The researchers observed that it took much longer for breast cancer tumor to develop in the mice on the omega-3 diet as compared to mice that were fed omega-6 diet. Furthermore, because of slower breast cancer growth in omega-3 fed mice, the size of the tumor was 50% smaller and the spread of cancer cells to both preferential and other organs was much lower as compared to omega-6 fed mice.
Muscle Loss (Sarcopenia)
As we age, our muscle mass and function decline progressively and can result in sarcopenia. Sarcopenia is the loss of muscle tissue that occurs as a part of the aging process. It can affect mobility and independence, particularly in the elderly.
The results from recent epidemiological studies in vitro and in animals indicated dietary supplementation with fish oil-derived omega-3 fatty acids stimulated muscle protein synthesis, as well as improving muscle mass and function in inactive older adults. One study showed that healthy older women who regularly exercised and took 2-4g of fish oil supplements per day for three months had improved training-related muscle strength in comparison to women who did not include fish oil supplements to their diet.
These results were supported by another study which showed that after six months of fish oil-derived omega-3 fatty acids supplementation (4 g per day), muscle mass and function was increased in healthy and physically active older adults. On the other hand, a shorter study (12 weeks) and lower supplement dose (1.3g per day) showed no association with an improvement in muscle strength and physical activity of the participants.
Cardiovascular Disease Prevention
A number of large trials investigating this association have been conducted, however, they report conflicting results. As such, researchers in the U.K. published a meta-analysis in JAMA Cardiology investigating the association between omega-3 supplement use and cardiovascular disease and death.
The study's analysis found that randomization to receiving omega-3 supplements had no significant association with the risk of cardiovascular events or death. Their analysis within predefined subgroups also revealed no significant association. Similarly, this was also their finding when they analyzed the association between omega-3 supplementation and death from all causes.
Ongoing trials assessing the effect of higher dosages (3 to 4 grams daily) of omega-3 supplements are currently underway and will provide more information on omega-3 supplements and their association with cardiovascular disease and death.
References:
Fish Oil. Mayo Clinic. https://www.mayoclinic.org/drugs-supplements-fish-oil/art-20364810. Oct 24, 2017.
Jensen, T., Priskorn, L., Holmboe, S., Nassan, F., Andersson, A., & Dalgård, C. et al. (2020). Associations of Fish Oil Supplement Use With Testicular Function in Young Men. JAMA Network Open, 3(1), e1919462. doi: 10.1001/jamanetworkopen.2019.19462
Gestational age: MedlinePlus Medical Encyclopedia. (2019). https://medlineplus.gov/ency/article/002367.htm
Villines, Z. (2019). Fish oil side effects: How much is too much? https://www.medicalnewstoday.com/articles/326206.php
Vinding, R., Stokholm, J., Sevelsted, A., Chawes, B., Bønnelykke, K., & Barman, M. et al. (2018). Fish Oil Supplementation in Pregnancy Increases Gestational Age, Size for Gestational Age, and Birth Weight in Infants: A Randomized Controlled Trial. The Journal Of Nutrition, 149(4), 628-634. doi: 10.1093/jn/nxy204
Saraswoti Khadge et al., Long-chain omega-3 polyunsaturated fatty acids decrease mammary tumor growth, multiorgan metastasis and enhance survival. Clinical & Experimental Metastasis. https://doi.org/10.1007/s10585-018-9941-7
Gray SR, Mittendorfer B. Fish oil-derived n-3 polyunsaturated fatty acids for the prevention and treatment of sarcopenia. Curr Opin Clin Nutr Metab Care. 2017 Dec 9. doi: 10.1097/MCO.0000000000000441.
Aung, T., Halsey, J., Kromhout, D., Gerstein, H. C., Marchioli, R., Tavazzi, L., . . . Clarke, R. (2018). Associations of Omega-3 Fatty Acid Supplement Use With Cardiovascular Disease Risks. JAMA Cardiology. doi:10.1001/jamacardio.2017.5205
Photo by Leohoho from Pexels