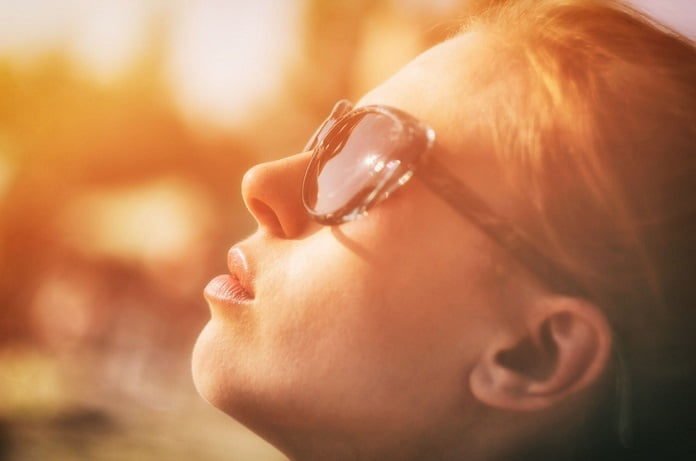 A new study investigates a possible link between variants of the vitamin D receptor gene and the risk of developing nonmelanoma skin cancer.
Nonmelanoma skin cancer refers to all forms of skin cancer that develops in the lower parts of the outer epidermis, including basal cells (basal cell carcinoma) and squamous cells (squamous cell carcinoma). Melanomas, on the other hand, develop from melanin pigment-producing cells called melanocytes. Nonmelanoma skin cancers are very common. Roughly 80,000 cases of skin cancer are diagnosed in Canada every year and nonmelanoma skin cancer accounts for about 75,000 of these, while the rest are melanomas.1 While basal skin carcinoma is the most common type of skin cancer, squamous cell carcinoma is the more aggressive type that can metastasize to other parts of the body.
Risk Factors for Nonmelanoma Skin Cancer
The known risk factors for nonmelanoma skin cancer include race (more common in Caucasians than other groups), sex (males at higher risk), and cumulative exposure to UV-B radiation.2,3 However, exposure to UV-B radiation is known to stimulate vitamin D synthesis in the skin, which is known to protect from nonmelanoma skin cancer.4 Variations in the vitamin D receptor (VDR gene), which binds to the metabolically active form of vitamin D and mediates its effects on gene expression, are thought to underlie the variations in nonmelanoma skin cancer risk. However, previous studies have not produced consistent results with regard to VDR gene variations and cancer risk.
Assessing VDR Gene Variants
A study carried out at the Birmingham Hospital of the University of Alabama recently examined whether the risk of developing nonmelanoma skin cancer was associated with variations in the VDR gene and other characteristics, such as race, age, sex, skin color, hair color, and eye color. The results of the study were recently published in JAMA Dermatology.5 A total of 100 individuals (70% non-Hispanic white men and 30% non-Hispanic white women) undergoing treatment for basal cell carcinoma or squamous cell carcinoma was recruited for the study. Another 100 non-Hispanic white men (46%) and women (54%) who visited the hospital for reasons other than skin cancer were recruited to form the control group.
Researchers gathered information from the participants about age, skin, eye, hair color, tanning ability, number of severe sunburns experienced during their lifetime, and family history of skin cancer. They also collected blood samples from the participants, which were subsequently used for DNA extraction, polymerase chain reaction, and sequencing to characterize variations in the VDR gene.
Results of the Study
The study found that participants who were over 73 years of age were approximately six times more likely to develop nonmelanoma skin cancer than those who were under 58 years of age, and women were about three times less likely to develop cancer than men. Individuals with lighter skin tones were roughly six times more likely to develop nonmelanoma skin cancer compared to those with a dark skin tone. A greater number of severe sunburns, poor ability to tan, and light eye color also predisposed individuals for nonmelanoma skin cancer. The risk associated with lighter hair color or a family history of nonmelanoma was not found to be statistically significant.
The study also characterized three different sites of variation (single nucleotide polymorphisms) within the VDR gene. These are commonly referred to as BsmI, ApaI, and TaqI. It was found that individuals with particular variants (alleles) at the BsmI and TaqI sites were more likely to develop nonmelanoma skin cancer. Finally, the authors developed a predictive model that incorporated age, sex, skin color, and presence or absence of cancer predisposing BsmI variant and could be used to predict an individual's risk of getting nonmelanoma skin cancer.
The study's limitations include not determining circulating vitamin D levels, which could be correlated with VDR gene variants and the use of questionnaires for obtaining information about sunburns, tanning ability, and family history of skin cancer, making it prone to recall bias.
Overall, the insights gained from this study may prove valuable in early screening and cancer prevention as well as early treatment. For future studies, the authors suggest that a screening for the BsmI allele specifically may emphasize the need for skin cancer prevention for individuals with this gene.
Written by Usha B. Nair, Ph.D.
References:
Canadian Skin Cancer Foundation. About Skin Cancer. http://www.canadianskincancerfoundation.com/about-skin-cancer.html. Accessed: September 4, 2017.
American Cancer Society. Basal and squamous cell skin cancer risk factors. https://www.cancer.org/content/dam/CRC/PDF/Public/8819.00.pdf. Revised May 10, 2016. Accessed September 04, 2017.
Boukamp P. Non-melanoma skin cancer: what drives tumor development and progression? Carcinogenesis. 2005 Oct;26(10):1657-67. Epub 2005 May 19. Review. PubMed PMID: 15905207.
Bikle DD. Protective actions of vitamin D in UVB induced skin cancer. Photochem Photobiol Sci. 2012 Dec;11(12):1808-16. doi: 10.1039/c2pp25251a. Review. PubMed PMID: 22990497; PubMed Central PMCID: PMC3501582.
Burns EM, Guroji P, Ahmad I, Nasr HM, Wang Y, Tamimi IA, Stiefel E, Abdelgawwad MS, Shaheen A, Muzaffar AF, Bush LM, Hurst CB, Griffin RL, Elmets CA, Yusuf N. Association of Vitamin D Receptor Polymorphisms With the Risk of Nonmelanoma Skin Cancer in Adults. JAMA Dermatol. 2017 Aug 23. doi: 10.1001/jamadermatol.2017.1976. [Epub ahead of print] PubMed PMID: 28832880.