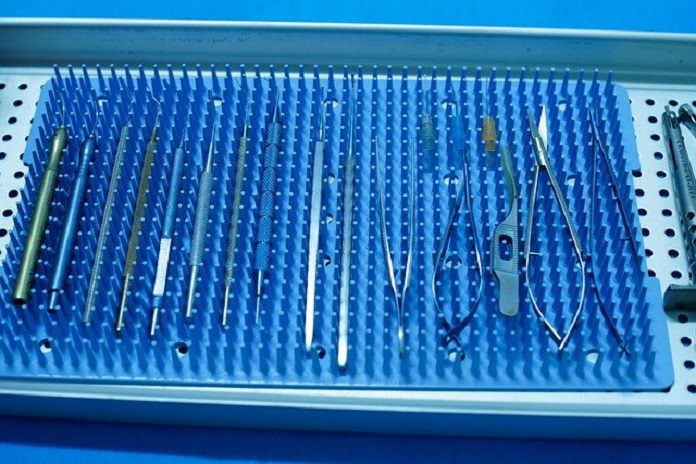 A recent study has compared minimally invasive surgery versus conservative care options in treatment for chronic sciatica, finding surgical treatment is superior to nonsurgical care, lasting four to twelve months.
The sciatic nerve is the largest and longest nerve in the human body and is responsible for both motor and sensory functions of the lower limbs. Sciatica is characterised by debilitating pain radiating along the sciatic nerve from the lower back to the leg. One of the most common causes of sciatica is lumbar disk herniation; in general, this is promptly resolved in 90% of patients with acute sciatica using only conservative treatment. Conservative care is intended to reduce pain using medication and physical therapy without surgical intervention. However, treatment for chronic sciatica (lasting more than four months after symptom onset) requires further research.
In a Canadian study published in The New England Journal of Medicine, researchers aimed to compare the effectiveness of surgery and conservative care on the treatment of patients with severe sciatica.
The single-centre, randomised trial included 128 patients with lumbar radiculopathy lasting four to twelve months, as well as posterolateral disk herniation between the fourth and fifth lumbar vertebrae (L4-L5) or in the lumbosacral junction (L5-S1).
These patients were assigned to receive either microdiskectomy (a minimally invasive surgical procedure) or standardised nonsurgical care (followed by surgery if required). Lumbar diskectomy was carried out on patients in the surgical group by a spine surgeon, whereas the conservative approach included patient education, activity and exercise, oral analgesics and psychiatric help. Leg-pain intensity was then measured on an eleven-point visual analogue scale at baseline and certain time points after randomisation.
The average leg-pain intensity at six months was scored at 2.8 down from 7.7 in patients who underwent microdiskectomy and 5.2 down from 8.0 in patients with nonoperative treatment. This means that there was a substantial reduction in the intensity of leg pain by 4.9 and 2.8 in the surgical and nonsurgical groups, respectively. Then, leg-pain intensity and frequency were measured at twelve months after randomisation; again, the results showed a greater improvement in patients in the surgical group.
Some patients in the nonsurgical group (34%) opted for surgery at approximately eleven months after enrolment. Therefore, the surgery-related adverse events were able to be compared and found to be similar in both groups: 6% in the surgical group and 8% in the nonsurgical group who decided to undergo surgery. The most frequent adverse events in both treatment groups included superficial wound infection and new-onset postoperative neuropathic pain.
The results of this study indicate that there was a significant advantage of surgical care over conservative treatment for chronic sciatica due to lumbar disk herniation. This is an important study for patients suffering from sciatica lasting over four months, since patients have previously preferred a conservative approach due to the reduced risk of complications in comparison to surgery. However, future investigations are vital to confirm the findings of this paper due to the fact that the research was carried out at a single centre, so the results may not be consistent when including multiple centres across multiple locations. Nevertheless, conservative care is still a useful treatment method for patients with chronic sciatica, particularly if they have relatively short-term symptoms and good physical functioning.
Written by Albina Babu, MSc
References:
1. Bailey, C.S., et al. (2020). Surgery versus conservative care for persistent sciatica lasting 4 to 12 months. New England Journal of Medicine, 382(12), pp.1093-1102.
2. Koes, B.W., Van Tulder, M.W. and Peul, W.C. (2007). Diagnosis and treatment of sciatica. BMJ, 334(7607), pp.1313-1317.
3. Gugliotta, M., et al. (2016). Surgical versus conservative treatment for lumbar disc herniation: a prospective cohort study. BMJ, 6(12), pp.1-7.
Image by Paul Diaconu from Pixabay