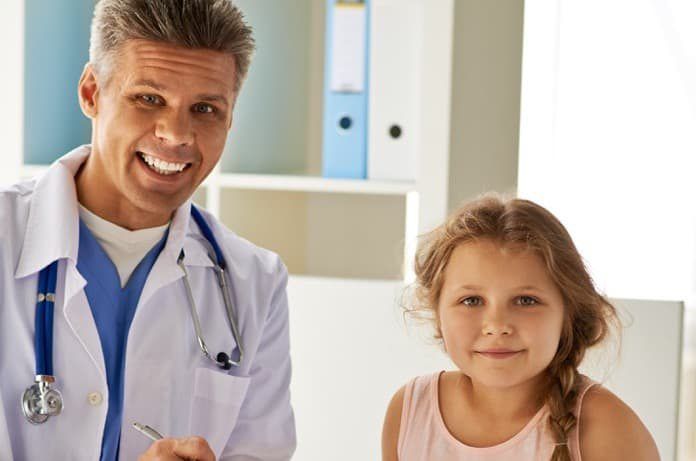 Scientists have discovered a molecule that blocks a tumor cell's ability to repair DNA, which could help devise treatments for pediatric cancer.
Despite the tremendous strides made in the treatment of cancer, the cure rates for pediatric and adult solid tumors are less than optimal. Often, tumors become resistant to chemotherapy as a consequence of mutations, which makes treatment extremely challenging.
In a landmark paper published recently in Science Translational Medicine, scientists reported that they observed the presence of an enzyme called PGBD5 in a majority of different pediatric cancer types, which included rhabdoid tumors, neuroblastoma, medulloblastoma, and Ewing sarcoma.1, 2 PGDB5 functions as a DNA transposase, that is an enzyme that cuts DNA and inserts it in a different place in the genome. The PGDB5 gene, which encodes for the transposase enzyme, is inactive in most healthy cells in adults and children. The researchers reasoned that PGDB5 expressing tumor cells would need a functioning DNA repair system to survive; a failure of the DNA repair machinery would result in DNA damage and apoptosis (cell death).
The researchers screened for small molecules that could block DNA repair mechanisms. They identified a molecule named AZD6738, which inhibits an enzyme called ATR, which is a serine/threonine protein kinase involved in DNA damage sensing that triggers the DNA damage response signaling pathway. This leads to a stop in the cell cycle and the activation of DNA repair mechanisms.
When PGDB5 expressing tumor cells grown in culture were treated with AZD6738, they died. However, when these cells were depleted of PGDB5, they were no longer susceptible to AZD6738 and survived treatment. AZD6738 was effective against most neuroblastoma, medulloblastoma, Ewing sarcoma, and rhabdoid tumor cells cultured in vitro but did not affect normal human and mouse embryonic fibroblast cells under similar conditions.
Next, the researchers grafted neuroblastoma, medulloblastoma, Ewing sarcoma, and rhabdoid tumor cells into immunodeficient mice to create preclinical in vivo models of cancer. They treated the mice orally with AZD6738 or a control and monitored the mice for tumor growth. The researchers found that AZD6738 significantly inhibited the growth of medulloblastoma and neuroblastoma in mice. However, the drug was ineffective in reducing the growth of Ewing sarcoma and rhabdoid tumors.
Clinical trials designed to check the efficacy of AZD6738 in combination with other chemotherapeutics for the treatment of head and neck squamous cell carcinoma, non-small-cell lung cancer, gastric and breast cancer in adults are already underway.3
The results of the present study have prompted some researchers to suggest that the drug can not only be now be tested in children with pediatric cancer, but also in adults with PGDB5 expressing solid tumors. However, others support adopting a more cautious approach given that the drug stopped tumor growth in mice without curing the disease. Regardless, these findings open the door for the identification and development of other therapeutics that target DNA damage response signaling for the treatment of refractory solid tumors.
Written by Usha B. Nair, Ph.D.
References
(1) Henssen AG, Reed C, Jiang E, Garcia HD, von Stebut J, MacArthur IC, Hundsdoerfer P, Kim JH, de Stanchina E, Kuwahara Y, Hosoi H, Ganem NJ, Dela Cruz  F, Kung AL, Schulte JH, Petrini JH, Kentsis A. Therapeutic targeting of PGBD5-induced DNA repair dependency in pediatric solid tumors. Sci Transl Med. 2017 Nov 1;9(414). pii: eaam9078. doi: 10.1126/scitranslmed.aam9078. PubMed PMID: 29093183.
(2) Leslie, M. Researchers find fatal flaw in childhood tumors. http://www.sciencemag.org/news/2017/11/researchers-find-fatal-flaw-childhood-tumors. Published November 1, 2017. Accessed: November 10, 2017.
(3) ClinicalTrials.gov. Ascending Doses of AZD6738 in Combination With Chemotherapy and/or Novel Anti Cancer Agents. https://clinicaltrials.gov/ct2/show/NCT02264678. Updated: October 23, 2017. Accessed: November 10, 2017.