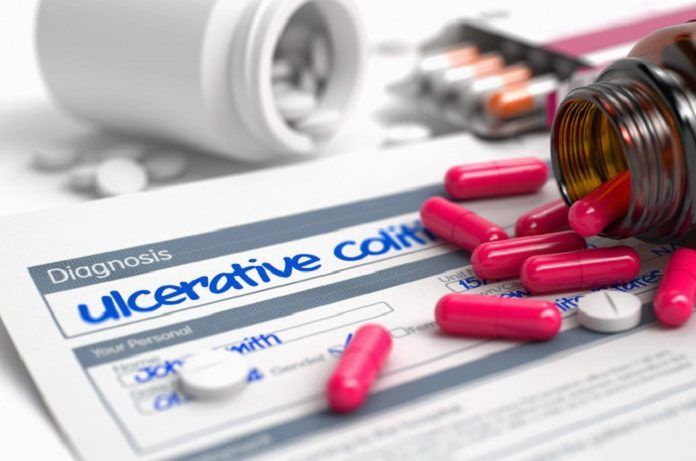 Ulcerative colitis is an inflammatory bowel disease for which new therapeutic strategies are greatly needed. A recent phase III clinical trial investigating the impact of a Janus Kinase (JAK) inhibitor tofacitinib, in the treatment of ulcerative colitis, provides a convincing proof of concept supporting the efficacy of this compound for induction and maintenance therapy.
Ulcerative colitis is an inflammatory bowel disease characterized by increased bowel movements and bloody diarrhea. The disease is thought to be initiated by damage to the colon epithelium, which brings the colon microflora in contact with luminal immune cells and elicits an inflammatory immune response further damaging and preventing healing of the epithelium.
Consequently, current treatments, including glucocorticoids and TNF-alpha monoclonal antibodies, aim to shut down this adverse immune response. Although usually effective, this category of treatments has two major pitfalls: 1) Owing to their immunosuppressive activity, they make patients more vulnerable to infections and 2) Some patients do not respond at all to the treatment or fail to maintain a sustained response. Therefore, new strategies are needed, especially for this latter group of patients.
In addition to these aforementioned treatments, another attractive and promising therapeutic target is the Janus Kinase (JAK) family, an essential mediator of several pathways activated by cytokines. In fact, seven years ago, the NIH collaborated with Pfizer to develop a potent first-class JAK inhibitor called tofacitinib. Since then, this compound has been approved for treatment of Rheumatoid arthritis and a phase II clinical trial has successfully been conducted for its use in treating ulcerative colitis.
To ascertain the efficacy of tofacitinib in ulcerative colitis treatment, a group of scientists affiliated with the NIH and Pfizer recently published in The New England Journal of Medicine the results of three phase III clinical trials performed between 2012 and 2016 in medical facilities located worldwide. Two trials studied the efficacy of tofacitinib as induction therapy and one studied the efficacy of tofacitinib as maintenance therapy. For the induction therapy trials, a 10 mg oral dose of tofacitinib administered twice daily was investigated, whereas maintenance therapy trials investigated the use of a 5 mg or 10 mg oral doses administered twice daily. In the induction trials, 614 (Trial I) and 547 patients (Trial II) were randomized in a 4:1 treatment to control ratio whereas in the maintenance trial, which involved 593 patients, patients were randomized in a 1:1 ratio. All patients were 18 years or older and had been diagnosed with moderate to severe ulcerative colitis for at least four months. Importantly, only patients for which established treatments failed or showed adverse side effects were included.
The results unequivocally support the use of tofacitinib for treating patients with moderate to severe ulcerative colitis. In fact, in the two induction trials, the remission rate after 8 weeks was 18.5% and 16.6% compared to only 8.2% and 3.6% for the placebo controls, respectively. In the maintenance trial, the results are even more impressive, with 34.3% and 40.6% of patients achieving remission after eight weeks under doses of 5 and 10 mg of tofacitinib, respectively, compared to only 11.1% for the control group. Importantly, the treatment did not induce any significant increase in the incidence of adverse side effects, although a few exceptions were noticed, including the frequency of Herpes infections which increased from 0.5% in the control cohort to 5.1% in the 10 mg dose maintenance trial. However, this result does not come as a surprise since a similar observation was made in another trial investigating tofacitinib in treating Rheumatoid Arthritis.
In summary, owing to these results, tofacitinib should be approved for treatment of ulcerative colitis in the near future, especially since the drug is already established for treating other diseases. However, it is important to emphasize the importance of two points when interpreting the results. First, the study was not designed to compare the efficacy of this treatment with current therapies and therefore, it is still unclear whether tofacitinib is more effective than current therapies. Second, the study only included patients for which current established treatments failed and thus, the success rate of this therapy in a more representative cohort of patients suffering from ulcerative is uncertain in the context of a phase III clinical trial.
Written By: Samuel Rochette, M.Sc