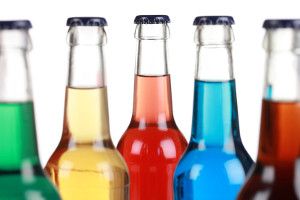 New research published in the journal Heart provides evidence that sugar-sweetened drinks increase the risk of heart failure in men.
An array of recent research has shed light on the negative health effects of beverages high in sugar, including negative impacts on blood pressure, diabetes, and obesity. We have previously reported some of the negative effects of sugar-sweetened drinks:
What Effects are Sugar-Sweetened Drinks Having on Your Kids?
Sugar Sweetened & Artificially Sweetened Drinks and Diabetes Risk
A new study carried out by researchers from Karolinska Institutet, Stockholm, Sweden has now reported that consuming sugar-sweetened drinks also negatively impacts the heart. The researchers investigated the risk of heart failure in over 42 000 Swedish men aged between 45 and 79 years. Over a time-period of 11 years, the researchers found a positive correlation between consumption of sugar-sweetened drinks and risk of heart failure. They found that men who reported drinking two or more sugar-sweetened drinks per day had a 23% higher risk of heart failure compared with men who did not consume sugar-sweetened drinks.
The researchers suggest that the increased risk may be due to the fact that increased sugar consumption has been shown to be associated with cardiometabolic risk factors such as blood pressure, insulin, and glucose, in addition to promoting weight gain. These factors all impact on risk of heart failure.
In addition to providing more evidence of health risks associated with sugar-sweetened drinks, the study also provides a new prevention strategy for men at risk of heart failure.
Rahman, I, Wolk, A, Larsson, SC. "The Relationship Between Sweetened Beverage Consumption and Risk of Heart Failure in Men" Heart Published Online First 2 November 2015.
Written by Deborah Tallarigo, PhD