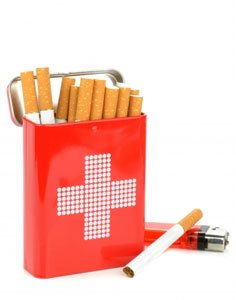 Two studies have investigated the potential for smoking to affect outcomes following cancer diagnosis. These studies assessed the risks for prostate cancer and breast cancer.
There is growing evidence that implicates cigarette smoking with increased risk of developing a variety of cancers. A recent study aimed to define the association between smoking status, smoking exposure, and time since quitting, with the risk of recurrence of prostate cancer following prostatectomy. The study included 6 538 participants who had undergone prostatectomy for localised prostate cancer.
The results of the study revealed that smoking status was significantly associated with biochemical recurrence free survival. At 5 years after prostatectomy, the survival rate was higher for those who had never smoked (90%), compared with those who were former smokers (84%), or current smokers (83%). The highest risk of biochemical recurrence was seen for both former and current smokers. For men who had quit smoking more than 10 years earlier there was no increased risk of recurrence compared to men who had never smoked. The increased risk was only noted in men who had quit smoking up to 9.9 years earlier. These results suggest that the damaging effects of smoking that are involved in prostate cancer recurrence may be diminished after 10 years. The authors of the study point out that this time frame is similar to the observations noted for cardiovascular disease.
The authors state that the mechanisms involved in the increased risk of recurrence in smokers remains unclear, with contradictory results from various studies. They therefore suggest that further research is needed to clarify the mechanisms involved in the association. In addition, they suggest that smokers should be counselled on the damaging effects of smoking in regards to prostate cancer prognosis.
Another study, conducted by researchers in Japan, has also found a link between smoking and risk of death among patients with breast cancer. A total of 848 patients were included in the study, who were recruited between 1997 and 2007. The results of this study revealed that among pre-menopausal participants, there was higher risk of both all-cause and cancer-specific death among those who were current smokers. The results of the study also suggested a higher risk of death in patients with estrogen receptor positive or progesterone receptor positive breast cancer, who had been smokers for a longer period of time. The authors of this study also suggest that breast cancer patients should be informed of the risk of smoking in cancer prognosis.
Rieken, M, Shariat, SF, Kluth, LA, Fajkovic, H, Rink, M, Karakiewicz, PI, Seitz, C, Briganti, A, Rouprêt, M, Loidl, W, Tring, Q-D, Bachmann, A, Pourmand, G. "Association of Cigarette Smoking and Smoking Cessation with Biochemical Recurrence of Prostate Cancer in Patients Treated with Radical Prostatectomy" European Urology, Published online: 04 June 2015.
Kakugawa, Y, Kawai, M, Nishino, Y, Fukamachi, K, Ishida, T, Ohuchi, N, Minami, Y. "Smoking and survival after breast cancer diagnosis in Japanese women: A prospective cohort study" Cancer Science, Accepted Article: doi: 10.1111/cas.12716
Image courtesy of Mister GC at FreeDigitalPhotos.net
Written by Deborah Tallarigo, PhD