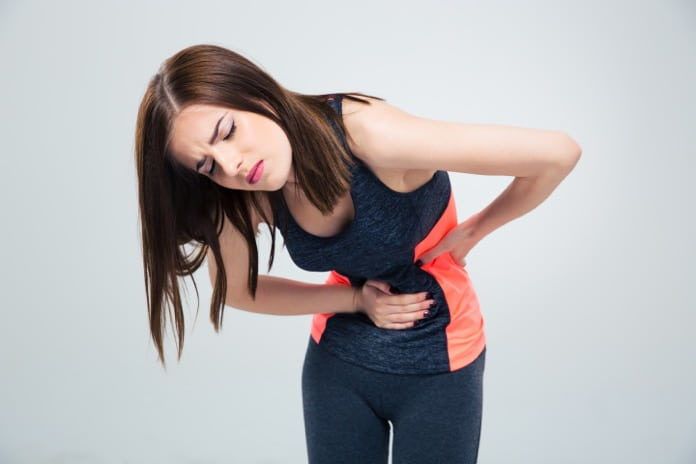 A recent study determined the prevalence of dysmenorrhea and examined the possible predictors of pain associated with dysmenorrhea among young women.
Dysmenorrhea, or painful periods, is a common condition characterized by lower back pain, abdominal cramping, and sometimes nausea, vomiting, bloating, and headaches. There are two types of dysmenorrhea: primary and secondary. Primary dysmenorrhea usually occurs a few years after the onset of menstruation. There are no pathological conditions associated with primary dysmenorrhea and it is usually caused by high levels of prostaglandins released by the lining of the uterus. The pain associated with primary dysmenorrhea lasts for one to three days of the menstrual period.
Secondary dysmenorrhea usually appears around 25 years of age and results because of a medical problem such as endometriosis, ovarian cysts, or pelvic infections. In the case of secondary dysmenorrhea, the menstrual flow is usually heavy and cycles are irregular. There is severe pain that persists throughout the course of menstruation.
An Important Public Health Problem
Although dysmenorrhea is a common gynecological problem, it may cause stress and incapacitation among young women. Women who experience emotional and behavioral problems may be at a higher risk of dysmenorrhea. In addition, studies have shown that dysmenorrhea is a common cause of absenteeism from school or the workplace. Thus, there are significant negative effects of dysmenorrhea on a woman's quality of life. However, in many parts of the world gynecological problems are not widely studied or discussed due to cultural or social factors, leading to limited availability of research on such issues. This raises a need to study the prevalence of dysmenorrhea in these regions and to evaluate the factors associated with it.
A study recently published in BMC Women's Health established the prevalence of dysmenorrhea in young Palestinian women and examined the factors associated with dysmenorrhea pain. This cross-sectional study randomly selected 956 female students with an average age of 19 years from An-Najah National University in Palestine. Researchers asked the participants to complete a pre-designed questionnaire regarding their reproductive health and lifestyle. They collected Information about menarche age, length and regularity of menstruation, and the presence of pain during menstruation. Lifestyle questions assessed body weight, stress levels, and nutritional habits. They also required the participants to choose from a list of symptoms of dysmenorrhea that they experienced. Lastly, the participants were asked to measure their pain intensity during dysmenorrhea using a visual analogue scale.
Prevalence of Dysmenorrhea
A total of 814 of 956 students reported having pain during menstruation at least once in the last six months. A prevalence of 85.1% observed in this study is relatively high but consistent with other study reports on the prevalence of dysmenorrhea in other countries. A variation in prevalence is usually observed between studies primarily because of different methods of defining dysmenorrhea and the subjective nature of symptoms.
Predictors of Dysmenorrhea
Most women reported moderate to severe pain during menstruation and the mean score of pain was 6.79 as measured by the visual analogous scale.  The researchers found an association of moderate or severe dysmenorrhea pain among participants with an irregular cycle, missing breakfast, academic specialization, high stress levels, and living in dormitories. However, statistical analysis resulted in only three predictors that were significantly associated with dysmenorrhea pain in women: medical specialization, skipping breakfast, and irregular menstrual cycle. Authors noted that medical specialization involves a high level of academic stress while skipping breakfast is related to long-term negative effects on reproductive health.
There was no association observed between dysmenorrhea and body mass index (BMI), physical activity, smoking, or the intake of salty or sweet food. Skipping breakfast was the stronger predictor of severe menstrual pain.
Implications and Future Research
The high prevalence of dysmenorrhea and pain associated with it makes dysmenorrhea an important health problem for women. In addition to pain, the most common symptoms associated with dysmenorrhea in this study were physical fatigue and emotional instability. The study reported that 58% of dysmenorrhic women opted for medication to relieve the symptoms.
The predictors of dysmenorrhea pain, as highlighted by the results of this study, may be an important consideration in the management of menstrual pain. The level of stress due to academic pressure, period regularity, and daily breakfast consumption were the most important predictors of dysmenorrhea pain. Consistent with previous study results, these factors play an important role in the severity of pain in dysmenorrhea. The authors expressed the need to further investigate the effects of these factors on dysmenorrhea.
The study has certain limitations. The cross-sectional nature of the study, the sample of students from only one region, and the inclusion of certain variables that were not well defined may have limited the interpretation of data.
Dysmenorrhea is an important health problem that affects daily activities and quality of life of many women. The results of this study may be useful in creating awareness about menstrual pain and factors such as academic stress, skipping breakfast, and irregular menstrual cycles that are associated with severity of symptoms. This awareness may be helpful in preventing and mitigating the development of dysmenorrhea, especially in regions where it is not common to discuss gynecological issues.
Written by Preeti Paul, MS Biochemistry
Reference: Heba A. Abu Helwa et al., Prevalence of dysmenorrhea and predictors of its pain intensity among Palestinian female university students. BMC Women's Health (2018) 18:18 DOI10.1186/s12905-018-0516-1