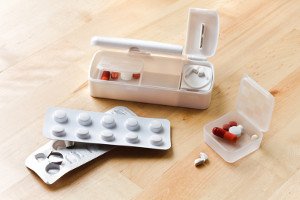 Pillbox is a promising smart medication dispenser that dispenses the right medication at the right time
Remembering when to take the right pills at the right time can be very difficult for the elderly and for individuals who need to take multiple medications. Simple pillbox containers are often used to manage this task but unfortunately require manual effort to fill each week and provide no information about the correct dosage or personalized schedule that must be adhered to. Pillbox is a smart medication dispenser system designed by a Polish company whose goal is to make it easier for medication users to adhere to a prescription regimen.
Pillbox is a sleek, rectangular device with a central controller unit and separate compartments that can be filled from the top with each medication. It is portable and was designed specifically for use by the elderly and disabled, complete with a large screen, Braille indicators, an alarm, and light indicators for optimal use.
This device is synchronized to a wireless device via the Dr. Poket app where the user and their caregiver can manage the prescription. The app reminds the user when it is time to take their medication and Pillbox will automatically dispense the correct medication at the correct time. To further simplify this process, Dr. Poket also has a barcode scanner to scan the drug package and access key information about the use of that drug, such as precautions and possible interactions. The app will also remind the user if any prescription is running low so that they can refill it or get a new prescription.
The Pillbox group has just recently launched their kickstarter campaign to raise funding to conduct final product testing and to produce Pillbox on a larger scale. They anticipate that the first Pillboxes will be shipped to backers next year in July.
Written by Fiona Wong, PhD