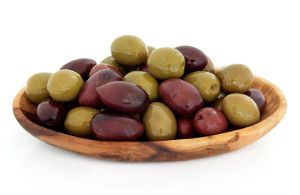 Maslinic acid, a chemical found in the waxy skin of olives, has been shown to induce cell death through two different pathways in colon cancer cells within laboratory settings. Researchers hope that maslinic acid could be used in order to treat colon cancer in humans.
Colon cancer is the second leading cause of cancer death in humans, following lung cancer. At the moment, the most common form of colon cancer treatment is surgery, in order to remove the tumor. Recently, there has been an increased interest in the use of natural compounds, such as plant extracts, as cancer treatments. Triterpenes (chemicals which are precursors to steroids in animals and plants), are a very common active ingredient in traditional herbal medicine, and many have been labelled as anti-tumoral. They work against cancer by inducing apoptosis (programmed cell death) in the cancer cells either through an intrinsic or extrinsic pathway. Intrinsic apoptosis works via signals that originate within the cell and disrupts the mitochondria to cause cancer cell death. Extrinsic apoptosis begins outside of the cancer cell with a molecule that binds to death receptors to cause cancer cell death.
Maslinic Acid is a triterpene that is found in high concentrations in the waxy skin of olives and has been considered to be an anti-tumor compound. It has already been reported that maslinic acid is able to intrinsically-induce apoptosis in HT-29 colon cancer cells within laboratory settings. A recent study published in the journal PLOS ONE reports that maslinic acid can also induce apoptosis in Caco-2 cells (another type of colon cancer cell) within a laboratory setting, but through an extrinsic pathway, unlike the intrinsic pathway used against HT-29 cancer cells.
These results are significant when considering that the Caco-2 cancer cells do not have a p53 protein, which is crucial for preventing cancer in normal cells and has been described as the "guardian of the genome". The p53 protein induces cell apoptosis when it senses any mutations in a cell's genes and is absent in over 50% of human tumors. Maslinic acid was shown to induce extrinsic apoptosis in the Caco-2 cells and this interaction was dose-dependent (the addition of more maslinic acid would cause more cancer cell death). Results show that maslinic acid is capable of inducing apoptosis in both intrinsic and extrinsic pathways, depending on the type of cancer cell is involved.
Researchers hope that these results can be used for the development of a new pharmaceutical drug that is effective; one that can be used to treat colon cancer by inducing apoptosis in cancer cells through intrinsic and extrinsic pathways.
Written by Alexandra Lostun, BSc