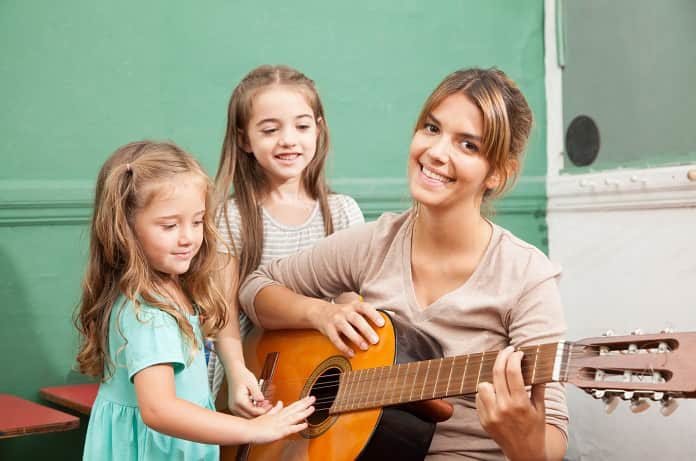 A recent clinical study investigated the effect of improvisational music therapy for autism on social communication skills in children with autism spectrum disorder.
Autism spectrum disorder (ASD) is a developmental disorder with a spectrum of symptoms and levels of disability. Children with ASD have difficulties communicating and interacting with others and they often display repetitive behaviors, perseverating on objects, actions, or words. A wide variety of therapeutic interventions have been developed and tested to improve ASD symptoms, but strong evidence for the overall effectiveness of these interventions is currently lacking.
Improvisational Music Therapy
Improvisational music therapy is one type of therapy currently in use throughout North America and Europe. In this type of therapy, the child and the therapist spontaneously create music through singing, playing, and movement. This approach is entirely child-centred, using a developmental approach that follows the child's attention in order to facilitate social communicative skills.
Randomized clinical trials have shown that music therapy for autism positively impacts developmental outcomes, including social interaction, parent-child relationships, and joint attention, but most trials have been conducted over relatively short-term periods of time without follow-up. Hence, it is unclear whether beneficial effects are sustained after therapy ends. Further, the optimal dose of music therapy for autism remains unknown and it is unclear whether results generalize to other settings or individuals.
Testing the Effects in Children with Autism
The Trial of Improvisational Music Therapy's Effectiveness for Children With Autism (TIME-A) set out to address these questions by conducting an assessor-blinded, randomized clinical trial to investigate the effects of improvisational music therapy on social communication skills in children with ASD. An assessor-blinded study is one in which the researcher gathering the outcome data is unaware of the condition of the participants, thus limiting the potential for bias. The international multicenter trial was conducted in nine countries across ten centers from November 2011 to November 2015, with follow-up between January 2012 and November 2016, with the results published in JAMA. 
The researchers enrolled 364 children between the ages of 4 and 7 years old who met the diagnostic criteria for ASD. Parents or guardians completed baseline assessments, including the social affect scale of the Autism Diagnostic Observation Schedule (ADOS). This scale, a measure of autism symptom severity, was the main outcome measure assessed in the trial. They also provided baseline demographic information and information on concomitant treatments (other treatments at the same time) and follow-up assessments at two, five, and 12 months after randomization.
Children were randomly assigned to one of three groups: a low-intensity music therapy group (once per week) plus standard care, a high-intensity music therapy group (three times per week) plus standard care, and a group that received standard care alone. Standard care consisted of routine care based on local availability (with the exception of music therapy), informational resources, and/or parents' counselling sessions to address ASD concerns. Thirty-minute music therapy sessions tailored to meet children's needs took place in outpatient settings (e.g., clinics, kindergartens, family homes) with or without family members over a five-month period. Therapists used singing and instrumental play to engage children.
No Reductions in Symptom Severity
Overall, music therapy for autism did not result in reductions in symptom severity among the children who participated in this study. The average ADOS social affect score decreased across the 5-month intervention period in both the high- and low-intensity music therapy plus standard care groups and in the group that received standard care alone, but the change was minimal and there were no significant differences between any of the groups. The results were different than previous studies that have shown benefits of music therapy for children with ASD.
The study was strengthened by its randomized, assessor-blinded design as well as its size and duration, but the researchers note several limitations that may have contributed to their inability to detect differences between the groups. They acknowledge the possibility of inconsistent implementation across the global settings, whereas previous studies have generally been restricted to single settings. Similarly, previous studies have used different outcome measures, as functional outcomes, such as the ability to participate in learning, work, and relationships, may have a greater real-life impact than outcomes like symptom severity. Finally, the researchers contend that although it was longer than other interventions, the trial may not have been long enough to improve social affect scores.
Overall, these findings do not support the use of improvisational music therapy for symptom reduction in children with autism spectrum disorder.
Written by Suzanne M. Robertson, Ph.D
Reference:
Bieleninik, Łucja, et al. "Effects of improvisational music therapy vs enhanced standard care on symptom severity among children with autism spectrum disorder: the TIME-A randomized clinical trial." JAMA 318.6 (2017): 525-535.