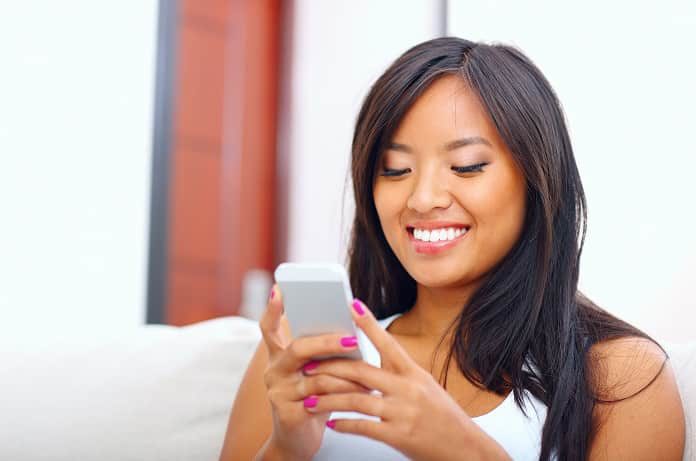 Chronic insomnia is a common complaint among adults in Western countries. A recent study suggests that cognitive behavioral therapy delivered via mobile phone app alleviates insomnia symptoms among adults with mild insomnia.
Individuals with insomnia have difficulty falling asleep, sleeping through the night, or both. The consequences of insomnia, including daytime fatigue and impaired cognitive functioning, have been well-documented. Chronic insomnia may also increase risk of physical (e.g., high blood pressure) and mental (e.g., anxiety and depression) disorders. On a societal level, these consequences are associated with economic burden as individuals with insomnia are not as productive at work, or they may be absent altogether.
Fortunately, nonpharmacological treatments like cognitive behavioral therapy for insomnia (CBT-I) have been shown to be effective in  alleviating insomnia. Recent studies have also shown that CBT-I is effective when delivered via the Internet, and computerized CBT-I (CCBT-I) is cost-effective and easily accessible. Mobile phone-based apps could further enhance the reach of CCBT-I interventions, but few studies have tested the efficacy of these apps to treat insomnia. To address this need, Dutch researchers conducted a randomized controlled trial of a CCBT-I-based app to improve insomnia severity and sleep impairment among individuals over the age of 18 with mild insomnia. The results of their study were published in the Journal of Medical Internet Research.
Participants were recruited in the Netherlands via websites, social media, and flyers. They completed an online questionnaire to determine whether they were eligible to participate in the study. To be eligible, they had to report clinically significant disturbances in daily functioning due to sleep deprivation, which was defined as difficulty maintaining or initiating sleep for at least 30 minutes a night, at least 3 times a week, for at least 3 months. Potential participants were excluded for a variety of reasons including incomplete questionnaires, prior CBT-I treatment or psychotherapy, not having an Android phone, sleep apnea, alcohol or drug abuse, and high levels of depressive symptoms. They also completed a 7-day sleep diary prior to the study, and those who did not complete the diary or who reported 5 or less consecutive hours of sleep on average over the 7-day period were also excluded.
After all inclusion and exclusion criteria were applied, 151 participants were included in the study. Of these, 74 were randomized to the CBT-I mobile phone app group, and 77 to a waitlist control group who would eventually receive the app. Over the course of 6-7 weeks, the fully automated app directed the participants to complete sleep diaries, relaxation exercises, educational exercises on sleep hygiene, and sleep restriction exercises, based on calculations of the ideal and maximum time in bed for each participant. It included reminders, warnings when participants recorded less than 5 hours of sleep, and consultations delivered by a virtual sleep care coach to encourage adherence and progress.
The main outcome measures were severity of insomnia measured by a 7-item Severity of Insomnia Index (ISI) scale and sleep efficiency, which was derived from a formula and calculated using sleep diary data. The researchers also assessed overall sleep quality as well as specific measures of quality such as number of awakenings and total sleep time, dysfunctional beliefs and attitudes regarding sleep, and levels of anxiety and depression. Participants completed surveys before the study started, after it was completed, and 3-months post-completion. On average, participants were about 39 years old and just over 60% were women. There were no differences in demographic characteristics between participants in the app group and those in the waitlist control.
Overall, participants who completed the treatment showed an improvement in severity of insomnia symptoms and sleep efficiency after the intervention compared to those in the waitlist control group. These differences remained statistically significant 3-months after the intervention, suggesting that the beneficial effects of treatment were sustained over time.  Compared to those in the control group, treatment group participants also experienced improvements in overall sleep quality and reduced levels of anxiety and depression following the intervention; these changes were also sustained at 3-months. Treatment group participants reported fewer sleep awakenings and less wake after sleep onset following the app intervention compared to those in the control group, although only changes in wake after sleep onset remained significant at 3-months. There were no differences in dysfunctional beliefs and attitudes regarding sleep, or other measures of sleep quality such as total sleep time or sleep onset latency.
The mobile phone app intervention improved symptoms of mild insomnia among the participants in this study; however, these participants were largely well-educated, and they may have been particularly motivated to address their insomnia concerns. Future studies should include varied samples, including participants with more severe insomnia and depression, as the two conditions are often comorbid. Researchers should also focus on identifying which components of the intervention work to improve various outcomes.
Written By: Suzanne M. Robertson, Ph.D