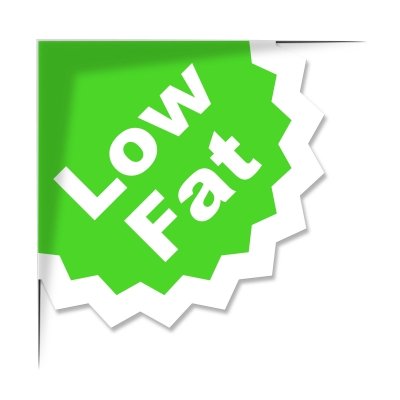 In a controlled study, researchers observed that obese subjects lost more body fat when they consumed a low fat diet versus a low carbohydrate diet
A new report proposes that cutting back on carbohydrate intake may not be as effective as cutting back on fat intake when you are trying to lose body fat. Nineteen obese adults were subject to an in-patient metabolic study to examine how a carbohydrate-restricted or fat-restricted diet affected body weight and fat balance.
Subjects were confined to a metabolic ward with one hour of physical activity each day. After a 5-day baseline diet, each subject was randomly assigned a low carbohydrate or a low fat diet for 6 days. The total amount of calories and protein per day was the same in each diet, at approximately 2000 kcal and 100g (20% of total energy), respectively. The low carbohydrate diet was composed of 108g (50%) of fat and 140g (29%) of carbohydrates, while the low fat diet was composed of 17g (8%) of fat and 352g (71%) of carbohydrates, per day.
Researchers observed that the low carbohydrate diet increased fat oxidation, or how the body converts fat to usable energy, in comparison to the baseline diet. The low fat diet had no significant change in fat oxidation levels. Unexpectedly, the low fat diet led to significantly more body fat loss when compared to the low carbohydrate diet, suggesting that you do not have to solely restrict your carbohydrate intake to lose fat.
One must take into consideration that although cutting fat from your diet seems to be more effective than cutting carbohydrates from the results of this study, the researchers' experimental design was strictly enforced and in their words, "unrealistic in free-living individuals". The take home message is clear, however – the gradual loss of body fat is more likely when you say no to that extra hamburger and actively cut back on both your dietary fat and carbohydrate consumption.
Hall KD, Bemis T, Brychta R, Chen KY, Courville A, Crayner EJ, Goodwin S, Guo J, Howard L, Knuth ND, Miller BV 3rd, Prado CM, Siervo M, Skarulis MC, Walter M, Walter PJ, Yannai L. Calorie for Calorie, Dietary Fat Restriction Results in More Body Fat Loss than Carbohydrate Restriction in People with Obesity. Cell Metabolism. August 12, 2015. epub ahead of print.
Image courtesy of Stuart Miles at FreeDigitalPhotos.net
Written by Fiona Wong, PhD