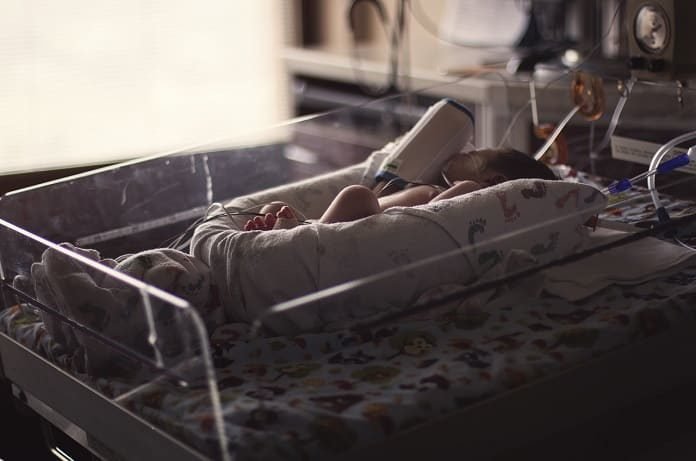 When extremely preterm infants are born, they often experience problems breathing on their own and require assisted ventilation. However, despite less invasive ventilation methods now being used a recent study has found that there was no significant improvement in the newborn's long-term lung function.
Substantial changes in assisted ventilation have been seen over the last 50 years, with the most common methods used today becoming less invasive. One such method is nasal continuous positive airway pressure (CPAP), a non-surgical treatment which uses a machine to pump a steady flow of air under pressure through the nose into the airway of the lungs, helping to keep the windpipe open. It helps preterm infants to breathe easier.
Preterm infants commonly suffer from respiratory problems due to underdeveloped lungs making it hard to breathe on their own. Assisted ventilation is required until infants are sufficiently strong and mature enough to breathe on their own. The danger however, is that underdeveloped lungs require a low exposure to oxygen such as that provided in the uterus, therefore exposure to higher concentrations such as that through assisted ventilation may injure lung development.
Given the less invasive nature of assisted ventilation Doyle and colleagues hypothesized that over time with use of the less invasive techniques this would be associated with less oxygen dependence and improved lung functionat 8 years of age. The results were published in The New England Journal of Medicine.
They compared the changes in assisted ventilation and oxygen therapy administered to extremely preterm infants (those born at less than 28 weeks of gestation) during the newborn period and follow-up on lung function at 8 years of age. The study was conducted over three distinct periods including 1991-1992 (225 infants); 1997 (151 infants) and 2005 (170 infants) in Victoria, Australia.
Data collected included the duration of assisted ventilation of all types and oxygen dependence at 36 weeks. Follow-up of all survivors of extremely preterm birth was conducted when the children were approximately 8 years of age and measured their respiratory function.
Over the three periods of time investigated, duration of assisted ventilation increased substantially, particularly with nasal CPAP. Also, despite an increase in the use ofless invasive methods the duration of oxygen therapy and rate of oxygen dependence at 36 weeks also increased. Furthermore, compared to earlier periods, children born in 2005 had worse airflow indicating no significant improvement in lung function at 8 years of age.
As abnormal lung function in childhood is linked to chronic obstructive lung disease in adulthood, the effects of assisted ventilation on lung development in extremely preterm infants issignificant not only for them as children but for the rest of their lives.
Since 2005, advances in technology have resulted in several new non-invasive assisted ventilation methods other than nasal CPAP now being available. These alternative methods have also allowed for an increase in not only different options available for preterm infants but also variations such as flow, pressure, rate and patient triggering (the ventilator response to an infant's inspiratory efforts). Randomised trials assessing the short-term outcomes have been carried out but studies assessing thelong-term effects of these newer assisted ventilation methods on lung function are yet to be carried out. Therefore it is too early to conclude whether these newer methods could result in better long-term respiratory function. Sadly, this study demonstrated that despite the increase in use of non-invasive ventilation in everyday neonatal intensive care there have been no improvements in lung function for preterm infants born through the 1990s to 2005.
Written by Lacey Hizartzidis, PhD
Reference: Doyle LW, Carse E, Adams AM, Ranganathan S, Opie G, Cheong JLY; VictorianInfant Collaborative Study Group. Ventilation in Extremely Preterm Infants andRespiratory Function at 8 Years. N Engl J Med. 2017 Jul 27;377(4):329-337. doi:10.1056/NEJMoa1700827.