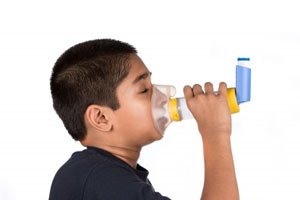 Latest research in childhood asthma has uncovered some potential risk-factors, and possible predictors. Here we summarize some of the latest developments in childhood asthma research.
Skin-Prick Testing Reveals Asthma Risk
Results of a study recently presented at the American Academy of Allergy, Asthma & Immunology 2015, have demonstrated that skin-prick testing in children under 4 years of age could provide early indication that children are at risk of developing asthma.
A total of 492 high-risk children were enrolled in the 'Cincinnati Childhood Allergy and Air Pollution Study'. The children each had a skin-prick test for indoor allergens such as: dog, cat, dust mite, and cockroach. Once the children reached 7 years of age, those who showed asthma-like symptoms underwent further testing for asthma diagnosis. In total, 15.9% of the children were diagnosed with asthma. The study revealed that asthma risk was highest in the children who had initially had sensitivity to cat and house dust mite during the skin-prick testing. The authors suggest that early identification of children who will go on to develop asthma could provide opportunity for earlier therapy, and the potential to alter the progression of the disease in these children.
American Academy of Allergy, Asthma & Immunology (AAAAI) 2015: Abstract 740. February 23, 2015.
Childhood Pneumonia as a Predictor for Asthma
A study published in the journal Pediatrics has reported on the association between lower respiratory illness, such as pneumonia, and asthma in children. Children were recruited for the study during their first 3 years of life who had developed a lower respiratory illness. The researchers found that children who had pneumonia in early life had a greater degree of lung function impairment compared with children who had no lower respiratory illness in early life. The study showed that there was a significant association between early pneumonia and an increased risk for asthma and wheeze in later life.
Chan, JYC, Stern, DA, Guerra, S, Wright, AL, Morgan, WJ, Martinez, FD. "Pneumonia in Childhood and Impaired Lung Function in Adults: A Longitudinal Study" Pediatrics. Published online March 2, 2015.
Bed Sharing Could Increase Asthma Risk
A study has assessed whether parent-infant bed sharing (also known as co-sleeping) affects asthma risk in children. The investigators assessed 6160 children who were bed sharing at 2 and 24 months of age. While the results revealed that bed sharing in early infancy did not increase the risk of asthma, they did show that bed sharing as a toddler (24 months) was positively associated with subsequent wheezing and asthma. These children were more likely to have respiratory symptoms between 3 and 6 years of age, and a greater chance of asthma diagnosis at the age of 6. The authors suggest that further studies are necessary to investigate the mechanisms that may be involved in the increased risk.
Luijk, MPCM, Sonnenschein-van der Voort, AMM, Mileva-Seitz, VR, Jansen, PW, Verhulst, FC, Hofman, A, Jaddoe, VWV, de Jongste, JC, van Ijzendoorn, MH, Duijts, L, Tiemeier, H. "Is parent–child bed-sharing a risk for wheezing and asthma in early childhood?" European Respiratory Journal December 10, 2014 erj00417-2014.
Antibiotics Are Not Associated with Childhood Asthma
A study published in the British Medical Journal has reported on the potential link between early exposure to antibiotics and childhood asthma. The study included over 490 000 children who were born between 2006 and 2010. The results of the study did not support previous positive associations that have been found between antibiotic exposure in early life and increased risk of asthma. The authors suggest that previous studies finding a positive association between antibiotics and childhood asthma could be due other factors including: genetic predisposition, respiratory infections, or other environmental factors. The current study used sibling analyses to rule out any of these other factors.
Örtqvist, AK, Lundholm, C, Kieler, H, Ludvigsson, JF, Fall, T, Ye, W, Almqvist, C. "Antibiotics in fetal and early life and subsequent childhood asthma: nationwide population based study with sibling analysis" BMJ 2014; 349 doi: http://dx.doi.org/10.1136/bmj.g6979
Image courtesy of Arvind Balaraman at FreeDigitalPhotos.net
Written by Deborah Tallarigo, PhD