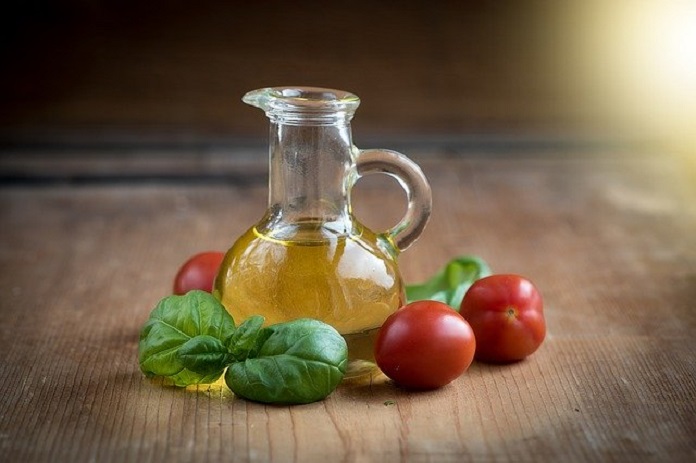 Extra virgin olive oil is still good for our health, even when it is cooked at high temperatures.
According to a study published in Antioxidants, if you are using extra virgin olive oil (EVOO), then you are probably using a healthy cooking option.
EVOO is a mixture of fatty acids, antioxidants, and polyphenols. These polyphenols are the reason for its health benefits. Previous studies have shown polyphenols to protect against cancer, cardiovascular disease, neurodegeneration, and diabetes. Moreover, antioxidants are important to prevent the formation of bad cholesterol.
However, previous research studied EVOO in unnatural settings, like in a laboratory or in a microwave. Most domestic cooking is done in a kitchen. Typically in domestic cooking, EVOO is not only used as a topping for a salad but can also be used to cook at high temperatures. EVOO can be used for deep-frying, pan-frying (also known as sautéing), roasting, or stir-frying. It is possible that high heat can break down the polyphenols, thereby diminishing the beneficial health effects of EVOO.
To examine the effect of high temperatures on the composition of EVOO, researchers simulated a domestic kitchen and sautéed EVOO at two different temperatures: 120°C and 170°C. Cooking time was also evaluated. The researchers cooked 120°C EVOO for 30 minutes and 60 minutes, whereas 170°C EVOO was cooked for 15 minutes and 30 minutes. A chemical detector, called a mass spectrometer, measured polyphenol degradation.
After sautéing the oil at the two temperatures, the researchers found reductions in polyphenol content. At 120°C, the number of polyphenols decreased by 40%. At 170°C, the number of polyphenols decreased by 75%. Time did not seem to play a significant factor in overall polyphenol degradation.
So, it is healthier to cook with EVOO?
Even though EVOO broke down at high heat, it still maintained enough polyphenols and antioxidants to be considered healthy by the European Union (EU). The EU considers an oil to be healthy if it can prevent the formation of bad cholesterol.
How can I use more EVOO in my cooking?
Previous research has shown the Mediterranean diet—which is high in fruits, vegetables, nuts, beans, and grains—to be very good for our health. A large study back in 2011 linked improvements in metabolic and cardiovascular health to the Mediterranean diet. Mediterranean cooking makes heavy use of EVOO. To make better use of the health benefits of EVOO, it might be worthwhile for cooking practices to adopt a Mediterranean cooking style.
Written by Shayna Goldenberg
References:
1. Lozano-Castellón J, Vallverdú-Queralt A, Rinaldi de
Alvarenga J, Illán M, Torrado-Prat X, Lamuela-Raventós R. Domestic Sautéing
with EVOO: Change in the Phenolic Profile. Antioxidants.
2020;9(1):77. doi:10.3390/antiox9010077
2. Extra olive virgin oil keeps healthy properties when used for cooking. EurekAlert!. https://www.eurekalert.org/pub_releases/2020-02/uob-eov022720.php. Published 2020. Accessed March 7, 2020.
Image by Pezibear from Pixabay