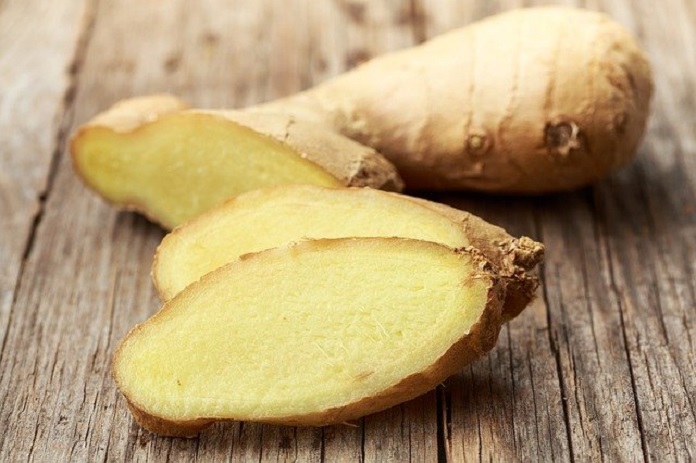 This post contains affiliate links. When you shop using these links we earn a commission that helps support the website – at no extra cost to you. Ads & links are not product endorsements.
Ginger may be good for reducing the joint pain and stiffness caused by rheumatoid arthritis.
Rheumatoid arthritis is an autoimmune disease characterised by pain, swelling, and stiffness in the joints. Other symptoms include chronic inflammation and loss of physical movement. Inflammation is a complex immune process, involving prostaglandin synthesis, which contributes towards joint pain.
Globally, 1% of people suffer from rheumatoid arthritis, which can have a massive impact on quality of life. Since there is no cure for arthritis, it is essential that various methods (including medications and lifestyle changes) are used to minimise the symptoms. Current treatment includes non-steroidal anti-inflammatory drugs (NSAIDs). Although these drugs provide pain relief, they cannot repair damaged tissues.
People with arthritis may benefit from the anti-inflammatory compounds found in ginger. The anti-inflammatory effect of ginger was initially identified in 1982 in the Chemical and Pharmaceutical Bulletin.
Ginger (Zingiber officinale) is a flowering plant. In addition to its culinary uses, ginger is commonly used as an herbal remedy. Ginger has anti-inflammatory, antioxidant, and anti-cancer properties so has been associated with relieving nausea, morning sickness, and stomach upsets. Ginger has a high safety profile and can be consumed in the form of tea, capsules, or oil.
The major identified compounds in ginger include gingerols and essential oils. These anti-arthritic agents can reduce the activity of chemical substances that are involved in promoting joint inflammation, suggesting that ginger may be good for rheumatoid arthritis. Ginger also contains salicylates, which the body transforms into salicylic acid; this can help ease pain and discomfort by preventing the production of certain prostaglandins.
Using ginger for rheumatoid arthritis
Ginger is a well-tolerated herbal remedy for pain relief with minor side effects. Using ginger for rheumatoid arthritis appears to work as a natural treatment due to its anti-inflammatory properties.
A study published in Pharmacology discovered that a small amount of ginger oil administered to rats for a month showed significant improvements in paw and joint swelling associated with severe arthritis. Additionally, a study published in the Journal of Alternative & Complementary Medicine found that ginger extract significantly suppressed rheumatoid arthritis-associated inflammation through inhibition of cytokine expression.
A study published in Prostaglandins, Leukotrienes and Essential Fatty Acids found that ginger may be useful in reducing inflammation, cholesterol, and the formation of blood clots. Ginger extract was shown to relieve joint pain and reduce inflammation in rats with rheumatoid arthritis when taken daily in high doses (500 mg/kg).
A study published in PharmaNutrition found that ginger's secondary metabolites – including gingerols and essential oils – have anti-inflammatory and anti-arthritic effects, which may make them good for rheumatoid arthritis.
In addition to treating rheumatoid arthritis, ginger may have protective effects against various complications related to this disease. These complications can include heart problems, lung problems, and kidney dysfunction. The antioxidant, anti-inflammatory, and analgesic effects of compounds present in ginger may reduce the severity of rheumatoid arthritis and its complications.
Other benefits of ginger
In addition to using ginger for rheumatoid arthritis, it may have potential uses in reducing pain and inflammation in other conditions.
Multiple studies have investigated the effect of ginger on treating osteoarthritis. A study published in Arthritis & Rheumatism found that a highly concentrated extract of ginger was effective in treating patients with osteoarthritis of the knee. Ginger was shown to have a statistically significant effect on reducing arthritis symptoms in individuals with moderate-to-severe pain.
The effectiveness of ginger as a pain reliever was investigated in a study published in The Journal of Pain. The study found that daily supplementation with ginger led to moderate-to-large reductions in muscle pain caused by exercise-induced muscle injury.
According to a study published in Fish & Shellfish Immunology, consuming ginger tea can boost immunity. The study found that daily supplements of ginger enabled fish to fight off certain infections more effectively.
Potential side effects of ginger
Ginger is an extremely popular herbal medication since side effects are mild and rare. The most commonly reported side effects are stomach upsets, diarrhea, nausea, heartburn, and mouth irritation.
People with other health conditions – for example diabetes, blood disorders, or gallstones – or people who are pregnant should be extremely careful before using ginger for pain relief. Ginger should be taken with care if anticoagulants are also being used since ginger may increase the risk of bleeding.
Seek medical advice if you experience any side effects from using ginger for joint pain. Although it may play a role in managing the symptoms of arthritis, it is also important to control arthritic symptoms by eating a healthy, well-balanced diet, exercising daily to reduce pain and stiffness, maintaining a healthy weight, and focusing on joint care. It is important to speak with your doctor before taking any supplements to make sure they are safe for you.
Written by Albina Babu, MSc
References:
Ginger (2018). Versus Arthritis. Retrieved from: https://www.versusarthritis.org/about-arthritis/complementary-and-alternative-treatments/types-of-complementary-treatments/ginger
Al-Nahain, A., Jahan, R. and Rahmatullah, M. (2014). Zingiber officinale: a potential plant against rheumatoid arthritis. Arthritis, 2014.
Kiuchi, F., Shibuya, M. and Sankawa, U. (1982). Inhibitors of prostaglandin biosynthesis from ginger. Chemical and Pharmaceutical Bulletin, 30(2), pp.754-757.
Sharma, J.N., Srivastava, K.C. and Gan, E.K. (1994). Suppressive effects of eugenol and ginger oil on arthritic rats. Pharmacology, 49(5), pp.314-318.
Phan, P.V., et al. (2005). Ginger extract components suppress induction of chemokine expression in human synoviocytes. Journal of Alternative & Complementary Medicine, 11(1), pp.149-154.
Thomson, M., et al. (2002). The use of ginger (Zingiber officinale Rosc.) as a potential anti-inflammatory and antithrombotic agent. Prostaglandins, Leukotrienes and Essential Fatty Acids, 67(6), pp.475-478.
Funk, J.L., et al. (2016). Anti-inflammatory effects of the essential oils of ginger (Zingiber officinale Roscoe) in experimental rheumatoid arthritis. PharmaNutrition, 4(3), pp.123-131.
Altman, R.D. and Marcussen, K.C. (2001). Effects of a ginger extract on knee pain in patients with osteoarthritis. Arthritis & Rheumatism, 44(11), pp.2531-2538.
Black, C.D., et al. (2010). Ginger (Zingiber officinale) reduces muscle pain caused by eccentric exercise. The Journal of Pain, 11(9), pp.894-903.
Sukumaran, V., Park, S.C. and Giri, S.S. (2016). Role of dietary ginger Zingiber officinale in improving growth performances and immune functions of Labeo rohita fingerlings. Fish & Shellfish Immunology, 57, pp.362-370.
Image by gate74 from Pixabay