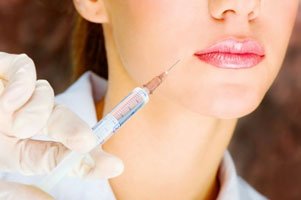 A study has evaluated the incidence of adverse events associated with common cosmetic dermatologic procedures. The study reports few adverse events, and no serious adverse events.
Cosmetic procedures are becoming more common, with many women opting to have procedures ranging from laser hair removal treatments to facial fillers. While these procedures have become common place, there are few studies that address safety and related adverse events of cosmetic procedures past the initial FDA approval process.
A study published in the Journal of the American Medical Association Dermatology, has for the first time, conducted a multicenter prospective cohort study estimating the adverse event rates of common dermatologic procedures. The study included non-invasive procedures and minimally invasive procedures that involved laser or energy devices and injectables such as neurotoxins and fillers. Centres from across the United States took part in the study, consisting of procedures conducted by board-certified dermatologists, or physician assistants and nurse practitioners who were directly supervised by a dermatologist.
In all, 20 399 procedures were included in the analysis, of which, 48 adverse events were reported. The rate of adverse events was calculated at 0.24%. Despite the occurrence of adverse events, there were no serious adverse events that were reported. The higher proportion of adverse events were seen for fillers, compared with energy devices or neurotoxins. In this subset of procedures the adverse events included lumps and rash. These adverse events were reported as treatable and short-term effects.
While the safety of reported procedures was high in this study, it is likely important to note that the procedures were conducted by, or with the supervision of, a board-certified dermatologist. The authors therefore suggest the possibility of higher rates of adverse events when the procedures are performed by other providers who have less training, without the background medical knowledge of anatomy, skin physiology, and wound healing.
The report concludes that adverse events following non-invasive or minimally invasive cosmetic procedures are rare (less than 1%), minor, and short-term, when performed by (or under the supervision of) a board-certified dermatologist.
Alam, M, Kakar, R, Nodzenski, M, Ibrahim, O, Disphanurat, W, Bolotin, D, Borovicka, JH, Pace, N, Alster, TS, Arndt, KA, Beer, KR, Berlin, JM, Bernstein, LJ, Brightman, LA, Butterwick, K, Cox, SE, Chotzen, V, Fabi, SG, Fitzpatrick, RE< Geronemus, RG, Goldman, MP, Groff, WF, Kaminer, MS, Kilmer, S, Rohrer, TE, Tanzi, EL, Silva, SK, Yoo, SS, Weinkle, SH, Strasswimmer, J, Poon, E, Dover, JS. "Multicenter Prospective Cohort Study of the Incidence of Adverse Events Associated With Cosmetic Dermatologic Procedures:  Lasers, Energy Devices, and Injectable Neurotoxins and Fillers." JAMA Dermatology March 2015, Vol 151, No. 3
Image courtesy of marin at FreeDigitalPhotos.net
Written by Deborah Tallarigo, PhD