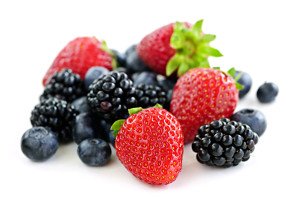 A recent study has found that berry supplements increase the development of neurons in rats. A future clinical trial also aims to assess the effects of a berry supplement on age-related cognitive decline in people.
Previous studies have noted that rats fed with strawberry or blueberry supplements have a reduction in age-related deterioration of motor and cognitive performance. A group of researchers from the Human Nutrition Research Center on Aging, Tufts University, Boston, USA, have carried further studies to determine how the polyphenols found in strawberries or blueberries are able to prevent this age-related deterioration in rats.
The researchers fed the rats either a strawberry or blueberry supplement for 8 weeks, followed by assessments of age-related functioning. The rats that were fed the supplements demonstrated better motor performance and an improvement in cognition and memory, compared with the rats that did not receive the supplements. The rats who were fed the supplements also had an increase in the development of neurons in their hippocampus compared with the control mice, as well as an increase in insulin-like growth factor-1 levels.
Since the results differed somewhat between rats fed the strawberry supplement compared with rats fed the blueberry supplement, the researchers suggest that individual polyphenol levels in the serum and brain of rats should be an area of future research to determine which specific components result in the improvement in cognitive function. In addition, the study supports further research into how berries can affect human health, in particular age-associated cognitive decline.
A clinical trial being conducted by researchers at the University of Reading, UK, in collaboration with Naurex, Inc, is currently recruiting participants to assess whether a wild blueberry dietary supplement has any effect on cognitive performance. Otherwise healthy participants with memory complaints, aged between 65- 80 years, will be recruited for the study. The participants will be allocated to receive either 100mg, 450mg, or 900mg of wild blueberry powder per day, or a placebo. The researchers will then measure changes in cognitive performance and memory, in addition to changes in mood, heart rate, and blood pressure.
Shukitt-Hale B, Bielinski DF, Lau FC, Willis LM, Carey AN, Joseph JA. "The beneficial effects of berries on cognition, motor behaviour and neuronal function in ageing." British Journal of Nutrition 2015 Sep 22:1-8. [Epub ahead of print]
clinicaltrials.gov "An Investigation Into the Effects of a Wild Blueberry Powder and a Wild Blueberry Extract on Cognition in Older Adults" Available from: https://www.clinicaltrials.gov/ct2/show/NCT02446314?term=blueberry+AND+cognitive&rank=3 Last Accessed: October 22, 2015.
Written by Deborah Tallarigo, PhD