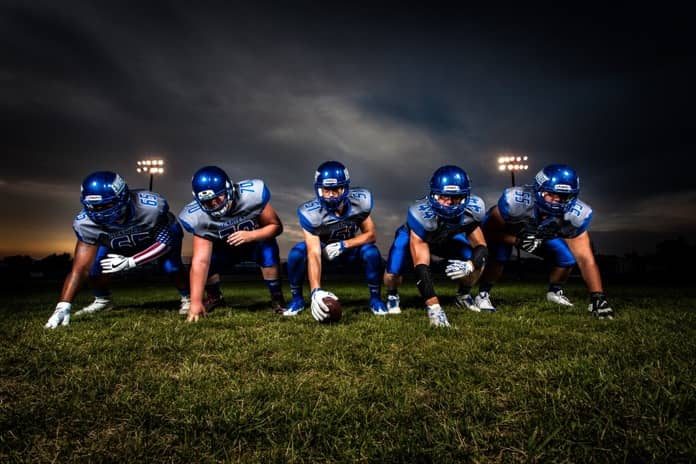 Multiple head hits in contact sports are a major worry. Researchers studied vision to possibly detect hidden brain damage in high school football players.
Public concern continues to grow over recurring head impacts in youth contact sports. These head hits without concussions may cause long-term brain damage. In a single season, the average youth football player has 107 head impacts, and the average high school football player has 565 head impacts. 
Previous research revealed that a specific eye test, called the near point of convergence (NPC), "has been shown to detect damage to neurons before symptoms appear," stated Keisuke Kawata, PhD, in a press release. Neurons are brain cells responsible for sharing information within the body. NPC measures the distance that a person can view a close object without having double vision. In one study, NPC measurements correctly identified almost 75% of athletes with concussions from athletes without concussions.
A recent US study was the first to investigate NPC values of high school football players who experienced multiple head impacts without concussions within one season. The study, published in JAMA Ophthalmology, included 12 male high school football players without any prior head and neck injury or a brain disorder.
NPC was measured preseason, before and after in-season games, and postseason for a total of 14 values. The subjects wore a device that calculated the number and the intensity of head impacts at every practice and game. A heart rate monitor was also worn to include the effects of exercise on the NPC measurement.
Researchers found that the NPC measurements worsened in the high school football players with increased head impacts. Also, NPC in the athletes did not quickly return to preseason values. Notably, NPC measurements began to recover in midseason although head impacts continued to occur.
This study suggests that NPC values could potentially indicate hidden brain damage in athletes with recurring head impacts. It also appears that the visual system may adjust to continual head injury; however, questions remain about how the visual system recovers.
The limitations of the study included a small sample size and no control group. Clinical research that includes a larger number of athletes and further examines the visual system may confirm the findings in this study.
Written by Mindy Nash, OD 
References:
Zonner SW, Ejima K, Fulgar CC, et al. Oculomotor response to cumulative subconcussive head impacts in US high school football players [published online ahead of print December 20, 2018]. JAMA Ophthalmol. doi:10.1001/jamaophthalmol.2018.6193.
Daniel RW, S Rowson, SM Duma. Head impact exposure in youth football. Ann Biomed Eng. 2012;40(4):976-981. doi:10.1007/s10439-012-0530-7.
Study examines head impacts, changes in eye function in high school football players [news release]. Bloomington, IN: JAMA Ophthalmology; December 20, 2018. https://www.eurekalert.org/pub_releases/2018-12/jn-seh121918.php. Accessed January 2, 2019.
Cherry K. Neurons and their role in the nervous system. Verywell Mind Web site. https://www.verywellmind.com/what-is-a-neuron-2794890. Updated November 16, 2018. Accessed January 2, 2019.