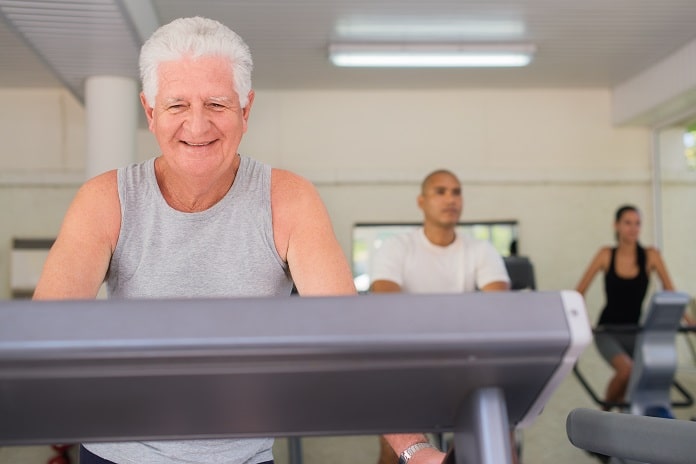 Recent study compares high intensity training for older adults with moderate intensity continuous training.
For adults aged 65 and older, the World Health Organization recommends at least 150 minutes of moderate-intensity exercise or 75 minutes of vigorous aerobic activity per week. The exercise improves heart and brain health, and lowers the risk of death from heart attack, stroke, diabetes, and cancer. It also improves stability and decreases risk of falling – a real concern as one ages.
With so many options, choosing an exercise program can be difficult. Is high intensity training for older adults more beneficial than moderate exercise? Researchers in Norway at the Norwegian University of Science Technology recently completed a study over five years comparing different exercise programs for older adults.
The study followed 1,567 adults with an average age of 72.8 years. Participants were randomly assigned to one of three exercise training groups: high intensity interval training, moderate intensity continuous training, or national recommendations for physical activity.
The high intensity training group (400 participants) followed the national recommendations three days per week and completed two HIIT sessions per week. The HIIT sessions started with a 10-minute warm-up, followed by four four-minute workouts with a heart rate at 90% of peak.
The moderate intensity training group (387 participants) also followed national recommendations three days per week and completed two medium intensity workouts per week. After a 10-minute warm-up, 50 minutes were completed with a heart rate about 70% of peak.
The remainder of the group, 780 participants, followed the 2012 Norwegian physical activity guidelines, which was 30 minutes of moderate physical activity per day.
The participants in the HIIT and medium intensity group met with exercise physiologists for a spin class every six weeks to ensure they reached correct heart rate intensities. They were also able to receive exercise training if they chose.
Participants completed questionnaires one, three, and five years into the study to measure their faithfulness to the program requirements. At the end of the study doctors measured the participants' peak oxygen uptake, which indicated how well their bodies used oxygen and is a good indicator of heart health. Mortality rates were also calculated for each group.
The researchers reported that although there were reductions in absolute risk reduction for all cause mortality, these reductions were not statistically significant. The study concluded that "compared with the Norwegian recommended guidelines for physical activity, supervised exercise (HIIT and MICT combined) showed no effect on all cause mortality, cardiovascular disease events, or cancer events in older adults."
The study does, however, suggest a reduction in the risk of premature death for participants in the HIIT group compared with recommended guidelines and MICT.
The authors reported greater benefits in patients who participated in high intensity exercise, and suggest that physical activity guidelines should recommend some high intensity activity for older adults.
Written by: Rebecca K. Blankenship B.Sc.
References:
1. WHO | Physical Activity and Older Adults. Who.int. https://www.who.int/dietphysicalactivity/factsheet_olderadults/en/. Published 2020. Accessed October 13, 2020.
2. Stensvold D, Viken H, Steinshamn S et al. Effect of exercise training for five years on all cause mortality in older adults—the Generation 100 study: randomised controlled trial. BMJ. 2020:m3485. doi:10.1136/bmj.m3485