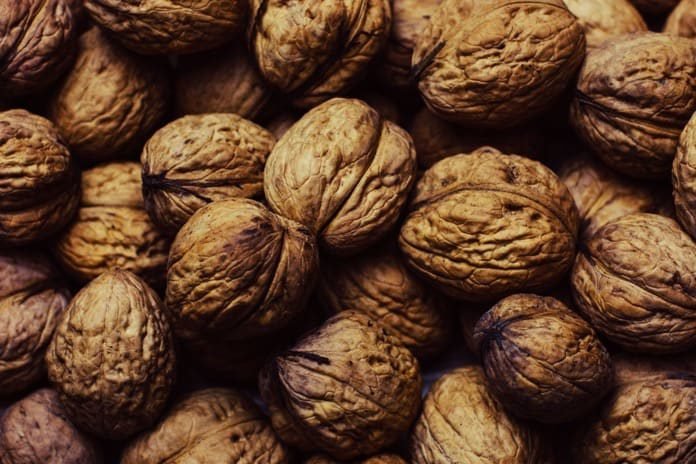 Researchers assessed the health benefits of walnuts based on their effect on the gut microbiota, the bile acids derived from microbes, and health markers.
The human gastrointestinal tract possesses a high concentration of varying microbes, which can have both beneficial and harmful effects. Available data suggest that diets rich in saturated fat and simple sugars without enough dietary fibre are associated with a higher risk of cardiovascular disease, obesity and certain cancers. On the other hand, diets rich in nuts, which are a source of unsaturated fat and dietary fibre, are associated with beneficial health effects in reducing death caused by cancer and heart disease. Walnuts, in particular, have been shown to have a beneficial effect on the gut and metabolic health, but it has yet to be explored in humans.
To investigate the potential health benefits of walnuts, researchers in the United States conducted a trial and published their results in The Journal of Nutrition. The researchers conducted a randomized study that included controlled-feeding with two periods of dietary interventions, each lasting three weeks.
They gave the participants the same base diet, scaled to the energy requirements of each participant. The treatment group's diet was supplemented with 42 g of walnuts daily during the intervention period and the control group's diet was not supplemented with walnuts. The researchers collected blood samples, serum samples for assessing cholesterol and glucose, and fecal samples. They measured these at the beginning of the study and at the end of the treatment period from each study participant for analysis. Calculations of changes from baseline scores were done in the walnut treatment group to identify changes in microbes and cholesterol concentrations.
They included a total of 18 participants in this study. The results showed that a daily consumption of 42 g of walnuts increased the amount of Firmicutes bacteria species, including Faecalibacterium, Roseburia and Clostridium, which is a finding consistent with the previous preclinical evidence.
Walnuts significantly reduced toxic bile acids and cholesterol
There are two secondary bile acids produced by the body's intestinal bacteria that are considered toxic and associated with gastrointestinal disease and cancer. Diets that are low in fibre and high in saturated fat are associated with an increase in these secondary bile acids, however, this study found that walnut consumption significantly reduced the amount of these secondary bile acids. This reduction, together with the increase in Faecalibacterium is associated with an overall decrease in gut inflammation.
Consistent with previous data, the study also found that cholesterol levels were lower in the walnut treatment group. However, the lower cholesterol from walnut consumption was found to be unrelated to the gut microbes or its changes. Finally, walnuts are high in ellagic acid, which can be metabolized by gut bacteria and have anti-inflammatory and beneficial vascular effects in the body.
The study's design as a randomized, controlled, crossover trial that included a washout period between treatments strengthened the findings although they were limited by the lack of ability to assess the functional capacity of the microbes. Over 70% of the participants were over the age of fifty, which also limits the age generalizability, as gut microbiota differs with age. Therefore, additional research into the effects of walnut consumption on age-related differences in gut microbiota would be warranted.
Overall, the study concludes there are potential health benefits of walnuts as demonstrated by their ability to alter gut microbiota and secondary bile acids as well as lower cholesterol in healthy adults.
Written by Maggie Leung, PharmD
Reference: Holscher, H. D., Guetterman, H. M., Swanson, K. S., An, R., Matthan, N. R., Lichtenstein, A. H., . . . Baer, D. J. (2018). Walnut Consumption Alters the Gastrointestinal Microbiota, Microbially Derived Secondary Bile Acids, and Health Markers in Healthy Adults: A Randomized Controlled Trial. The Journal of Nutrition. doi:10.1093/jn/nxy004