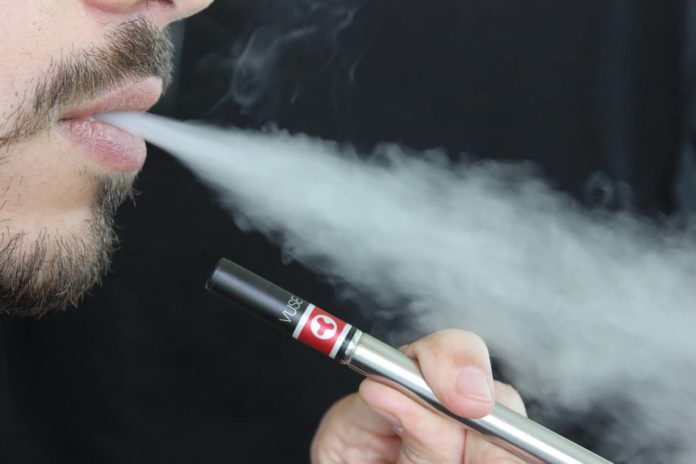 A recent article published in BMJ Open shed light on the use of e-cigarettes among adolescents as a predictor of their likelihood to smoke in the future.
You may have seen teens in your community walking around with a peculiar device in hand, puffing clouds of smoke overhead. Orange, watermelon, kiwi, and one of the many 7,000 scents may have caught your attention. This new trend—known as vaping—has grown in popularity among the adolescent community.
Electronic cigarettes, also called e-cigarettes, are devices that typically vaporize nicotine, propylene glycol (a synthetic liquid), and flavouring. E-cigarettes are relatively new in North America, with companies claiming their use may assist adults who need help to stop smoking.
E-cigarettes have not removed formal market approval in Canada
As e-cigarettes are relatively new, there is limited regulation for their use. In Canada, nicotine e-Cigarettes require market authorization for their advertisement and sale as they are considered medical devices. However, the e-cigarettes you currently see on the streets have not received formal market approval in Canada. With new legislation in process, many await to hear how the Canadian Government will plan to regulate the manufacturing, labelling, and promotion of such products.
As of 2013, 6.1 million deaths were linked to tobacco use, giving researchers a vested interest in understanding how E-cigarette usage could impact the likelihood of future generations smoking cigarettes.
A recent article published by BMJ Open summarizes a study conducted in the Canadian provinces of Ontario and Alberta. The researchers studied the use of e-cigarettes as a predictor for future cigarette smoking among teenagers. For the study, 45,298 students in 89 secondary schools located in these provinces completed an in-class questionnaire, with 40,436 students completing a follow-up questionnaire two years later.
The researchers separated the students into two groups depending on their survey responses:
1) Non-smokers who have never smoked and are not likely to smoke in the future
2) Non-smokers who have never smoked and are likely to smoke in the future
These groups did not include teens who have previously smoked cigarettes, as the study was intended to determine the risk of future cigarette smoking among adolescents and if this was affected by the use of e-cigarettes.
The researchers determined their likelihood based on sociocultural factors including how many friends of the teen's social group engaged in cigarette smoking. Other qualitative measures included questions regarding what race the teen identified with and how much weekly allowance the teen had access to.
The group that was identified to be the most likely to engage in e-cigarette smoking included white males who received an allowance of $1-20 a week, rather than no allowance, an allowance of $21-$100, or an allowance of +$100, indicating that greater financial resources did not necessarily increase the risk of a teen's likelihood to use e-cigarettes.
E-cigarettes may be a gateway to smoking cigarettes
Researchers found that in the group of non-smokers who have never smoked and were not likely to smoke, 45.2 % of students who had used e-cigarettes had reported trying smoking cigarettes two years later. Comparatively, only 13.5% of teens who were not e-cigarette smokers reported having tried cigarettes in the two years that followed.
Among the group likely to smoke in the future, 62.4% of teens who smoked e-cigarettes reported trying cigarettes in the 2 years that followed the initial survey, with 36.1% who had never tried e-cigarettes reporting that they tried cigarettes in the following two years.
The study found that students who previously used e-cigarettes were more likely to report trying cigarettes in the future, including groups of teens not likely to smoke in the future, or unlikely to try cigarettes based on their survey responses. This suggests that e-cigarettes may be acting as a new gateway for a new generation of smokers who may have not traditionally been at risk for smoking cigarettes.
Written by Nikki Khoshnood, BHSc Candidate
Reference: S.Aleyan, A.Cole, W.Qian, S.T Leatherdale. (2017). Risky business: a longitudinal study examining cigarette smoking initiation among susceptible and non-susceptible e-cigarette users in Canada. Retrieved from BMJ Open: http://bmjopen.bmj.com/content/8/5/e021080