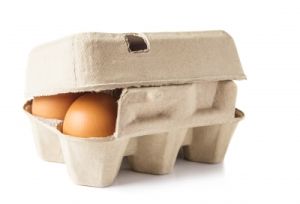 Dietary recommendations for eggs have been a controversial subject for some time. Their cholesterol content has led to a general consensus that egg consumption increases the risk of high cholesterol. Studies are now emerging demonstrating that, in the short term, egg consumption does not increase serum cholesterol, and eating an egg rich diet may, in fact, be beneficial for cholesterol.
Are eggs good or bad for cardiovascular health? Research is now demonstrating that eating whole eggs can increase HDL-C, large HDL, and large LDL and decrease small LDL, compared with eating egg substitutes. In addition, studies are now emerging that show no link between regular egg consumption and the risk of cardiovascular disease.
A recent study published in the American Heart Journal has assessed the effect of regular egg consumption on endothelial function in patients with coronary artery disease. This study was developed as a follow up to previous studies conducted, which assessed the effect of regular egg consumption on endothelial function and lipid levels in healthy and hyperlipidemic adults. The study was conducted in Lower Naugatuck Valley, CT, USA. The study population consisted of 32 adults (6 women and 26 men) who were non-smokers. The men were older than 35 years and the women were postmenopausal and not taking HRT. The participants were randomly assigned to one of six groups and each group was assigned to a different sequence of 3 different breakfast assignments. The 3 breakfasts were: breakfast with 2 eggs, breakfast with ½ cup egg substitute, or a high-carbohydrate breakfast, for 6 weeks, with 4-week washout periods. The outcomes of the study were endothelial function and serum lipid levels. In addition, the participants kept a food diary, detailing their food intake during the study period.
The study reported unaffected endothelial function when participants were consuming two eggs daily for breakfast, for 6 weeks. Endothelial function was not different when compared with the participants assigned to the high carbohydrate breakfast. In addition, there was no difference noted between the high carbohydrate breakfast group, and the 2-egg breakfast group in terms of serum triglyceride, HDL, and LDL cholesterol levels. Blood pressure, body weight, and BMI also remained unchanged when participants were consuming 2 eggs for breakfast compared with participants eating the high carbohydrate breakfast. The study also reported no differences in all measures between the 2-egg breakfast and the egg substitute breakfast. The results of the study remained the same when taking into consideration other confounding factors such as age, gender, race, BMI, hypertension, and dyslipidemia.
The study then assessed the composition of caloric intake between the diets. They found that the percent of caloric intake from saturated fat was higher in the egg phase when compared with the high carbohydrate phase of the diet. While the percent of caloric intake from carbohydrate was significantly lower in the egg phase compared with the carbohydrate phase. Cholesterol intake was also higher in the egg phase compared to the egg substitute phase.
Overall, the study demonstrated that a short-term increase in egg intake does not have adverse endothelial or serum cholesterol effects in patients with coronary artery disease. The authors of the study state that their results agree with previous studies that have demonstrated similar findings. In addition, the findings relating to blood pressure are consistent with the previous studies conducted by the same group.
An interesting finding of the current study was that there was a slight decrease in both weight and BMI associated with egg consumption, however this did not reach statistical significance. It is interesting that this occurred regardless of the fact that the total calorie consumption was higher in the egg phase of the trial.
While eggs have received bad press, they are a good source of micronutrients and, compared with other animal protein, have lower levels of total fat and saturated fat. In addition, eggs are a good source of protein that can help to increase satiety, and therefore help with weight loss and maintenance. While current recommendations from the American Heart Association are for patients with coronary artery disease to exclude eggs from the diet, the authors of the current study suggest that this could potentially result in consumption of foods that are higher in sugar and starches, which may be detrimental. They suggest that alternate food choices need to also be considered when excluding a particular food from the diet. The authors state that while there is no current evidence to exclude eggs from the diet, there should be further long-term studies conducted to assess the health benefits or harms of increasing egg intake.
Katz, DL, Gnanaraj, J, Treu, JA, Ma, Y, Kavak, Y, Njike, VY. "Effects of egg ingestion on endothelial function in adults with coronary artery disease: A randomized, controlled, crossover trial"American Heart Journal DOI: http://dx.doi.org/10.1016/j.ahj.2014.10.001 In Press, Published online: October 7, 2014.
Image courtesy of Feelart at FreeDigitalPhotos.net
Written by Deborah Tallarigo, PhD