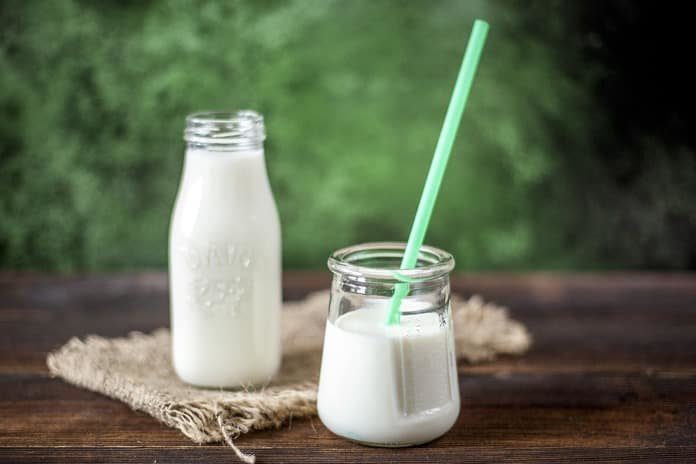 A recent study investigates whether drinking milk two or more times a week is associated with the increase of lean body and muscle mass of postmenopausal women.
Proper nutrition is important in post-menopausal women who have finished their fertile reproductive span and have a loss of ovarian activity. They have low levels of the female sex hormone, oestrogen and progesterone, and are subsequently susceptible to many conditions affecting various body systems. Some examples of these conditions are a heart attack, osteoporosis, and the degenerative loss of skeletal muscle mass. Proper nutrition and exercise are therefore important in this group of women to maintain a healthy lifestyle.
The absorption of calcium from the gut to deposit onto the bones decreases in postmenopausal women due to the loss of oestrogen, and therefore it is advocated that women increase their consumption of milk to reverse that effect.  In an attempt to identify the additional effects of drinking milk in post-menopausal females, a cross-sectional study was conducted in Japan and published earlier this year in 2018 by Sukenobe and colleagues in BioMed Central's Women's Health.
They used information provided by a previous study, conducted at the Menopause Clinic of Tokyo Medical and Dental University from November 2012 to June 2013 to uncover the association between normal to high- and low-fat milk consumption with the body composition of 85 Japanese women aged between 40 to 60 years. A variety of health parameters were used to assess this association such as age, menopausal status, lifestyle factors, and body composition.
The researchers estimated the consumption of low, normal, and high-fat milk using a diet history questionnaire which the participants filled out themselves. They divided the participants into two groups according to their consumption. Those who were drinking milk about twice a week were classified as "consumers" and those who were drinking milk fewer than two times a week were classified as "non-consumers". Out of the 85 participants who completed the self-assessment, 29 were exclusive normal or high-fat milk consumers, 18 were exclusive low-fat milk consumers, and 29 of them were non-consumers. Eleven women who consumed both low-fat and normal/high-fat milk was excluded from the analysis. 
Higher Muscle Mass in Those Drinking Milk More Often
The results showed that the participants who were exclusive low or high-fat milk consumers had a significantly higher lean body mass and muscle mass than those who were non-consumers of milk. The researchers made sure to check that the content of lean body mass, body fat, and body water were generally appropriate for the subjects' age and sex.
To avoid bias, the researchers also made sure that there was no discrepancy between the estimated average daily intake of protein among milk non-consumers and consumers. Based on previous research that shows the loss of muscle mass with the loss of vitamin D, the researchers further amplified the results of their study to demonstrate that vitamin D intake from milk was positively associated with the development of lean body and muscle mass in those who were consumers.
Written by Dr. Apollina Sharma, MBBS, GradDip EXMD
Reference: Sukenobe, Y., Terauchi, M., Hirose, A., Hirano, M., Akiyoshi, M., Kato, K., & Miyasaka, N. (2018). Normal/high-fat milk consumption is associated with higher lean body and muscle mass in Japanese women aged between 40 and 60 years: a cross-sectional study. BMC women's health, 18(1), 32.