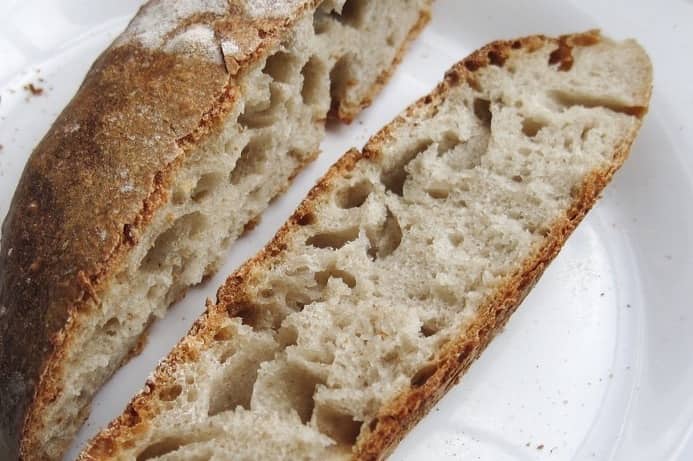 Polese and colleagues tested the immediate gastrointestinal and metabolic effects of sourdough and yeast-leavened breads on Italian participants.
Europeans consume many baked goods like bread and pastries, and consuming these foods may often lead to feelings of fullness and discomfort. Breads and pastries can be leavened in one of two ways by using either sourdough starter or baker's yeast. With sourdough, a mixture of flour and water undergoes fermentation directly, leading to the production of different acids and alcohol than yeast fermentation. These serve to acidify dough, which helps preserve it for longer periods, and results in the formation of smaller molecules, and lowers the glycemic index of the dough. Together, these changes mean that sourdough breads and pastries are metabolized differently than yeast-leavened baked goods.
Do sourdough and yeast-leavened breads result in different feelings of discomfort?
To determine whether sourdough and yeast-leavened breads lead to different feelings of discomfort, Italian researchers Polese and colleagues conducted a new study published in the Journal of Nutrition. They recruited 17 adult participants with normal body weight and no history of metabolic or psychiatric disorders or gastrointestinal diseases. After a seven-day standardized diet, each participant was fed a meal consisting of two croissants prepared with either sourdough or yeast.
After the meal, the researchers performed MRI scans and blood tests to determine gastrointestinal symptoms and blood sugar levels. After one week, the process was repeated, with the participants receiving the other option of sourdough or yeast-based croissant. In addition to MRI and blood tests, the participants were asked about their subjective experience with gastrointestinal discomfort.
Sourdough led to less discomfort
The participants generally found the sourdough croissants to be twice as palatable as the yeast croissants. After eating sourdough croissants, the overall volume of the stomach and hydrogen gas production were both significantly lower than after eating the yeast croissants. Gastrointestinal symptoms were also reduced after eating sourdough croissants compared to yeast croissants, and the participants reported feeling fuller and less hungry after eating the sourdough croissants. However, there were no clear effects on blood sugar, likely because of the high-fat content of croissants.
Sourdough leads to reduced discomfort after eating and improved feelings of fullness. In addition, the process of sourdough leavening alters the composition of foods so that they are more appealing and easier to digest. However, previous studies have shown no differences between sourdough and yeast-leavened baked goods in these regards. Further work will need to establish long-term effects of sourdough versus yeast-leavened breads in people of different ethnic backgrounds and ages. Understanding the gastrointestinal and metabolic effects of sourdough and yeast-leavened bread could lead to the design of food products with fewer side-effects.
Written by C.I. Villamil
Reference: Polese et al. 2018. Postprandial gastrointestinal function differs after acute administration of sourdough compared with brewer's yeast bakery products in healthy adults. J Nutrition.