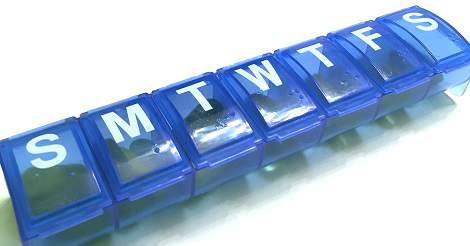 Patients with a history of inconsistent adherence to their medication regime may experience adverse events when medication is suddenly administered properly, such as through a pill organizer.
Pill organizers are specially designed boxes containing separate compartments that allow a patient's medicines to be organised according to the days of the week and times of day that they should be taken. For elderly patients taking multiple medications, these boxes can be extremely helpful in ensuring that meds are administered in the correct doses and at the correct frequency.
However, a study recently conducted by researchers at the University of East Anglia (UK) suggests that special monitoring of the patient's condition may be advisable during the initial period of transitioning a patient to the use of a pill organizer. The reason appears to be that, prior to using the organizer, patients may have been taking their meds inconsistently, resulting in adjustments in their dosage that may cause problems once they start taking meds properly.
Researchers in the East Anglia study initially surveyed 288 people aged over 75 who were taking three or more types of prescribed medications. They found that over a third of the patients were already using a pill organiser of some kind. However, it also appeared that a quarter of the 288 patients were deliberately not taking their medications as prescribed, and of the remaining 76 participants, 46.1%, were mistakenly not taking their medicine as prescribed.
The researchers then conducted a study involving 29 of the patients who were not using pill organizers.  Participants were divided into two groups and monitored over an eight week period. Half of them continued to take their medications directly from the packet as they had been doing, while the other half switched to pill organizers.
Over the eight weeks of the study, five adverse events were recorded in the pill organiser group, compared with none in the group taking their meds from the packet.  The adverse events consisted of three falls, one hypoglycaemic episode, and one patient who became unwell and was rescued after being unable to get out of the bath for 12 hours.
While the study sample is small, the authors feel that the results suggest two things: (1) that pill organizers do help patients to take their meds as prescribed, and (2) that patients switching to use of a pill organizer should speak to their physician to ensure dosages are appropriate and/or be closely monitored during the initial transition period.
Written By: Linda Jensen