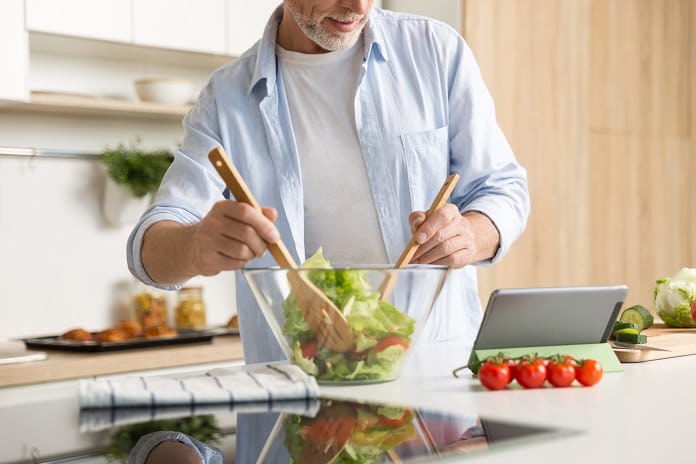 In a study published in BMC Public Health, Researchers in Canada surveyed over 10,000 people to determine their usage of Canada's Food Guide.
Canada's Food Guide is an icon. First published back in 1942, the Guide and its various forms have been helping Canadians make nutritional choices for over 75 years. According to some sources, it was the most requested Canadian government document after income-tax forms. But how relevant is it today?
Little research on Canada's Food Guide usage
Indeed, little has been done on the Guide's actual usage and effectiveness with Canadians. With this need in mind, researchers in the Province of Manitoba used data from a large national survey to understand Canadians' actual awareness and usage of the Guide.  The results were published in the journal BMC Public Health.
Many have heard of the Guide, but few use it
The researchers analyzed data from Statistics Canada's 2012 Canadian Community Health Survey, which included questions on the latest version of the Guide (or related Canada's Food Guide for First Nations, Inuit, and Métis), which was published in 2007. The survey interviewed Canadians of at least 12 years of age in all provinces and was administered from May to June of 2012. A total of 10,098 respondents were interviewed.
The key results were as follows:
Canadians were very aware of Canada's Food Guide, with more than 80% having heard of it.
More women (87%) than men (81%) had heard of the Guide.
Of those who had heard of the Guide, 84% of women had actually looked through one, compared to only 66% of men.
The major reason cited for not looking through the Guide was "not interested," with an overwhelming 79% of respondents giving this reason.
Only 26% of indigenous respondents had heard of Canada's Food Guide for First Nations, Inuit and Métis.
Some 31% of respondents had a paper copy of Canada's Food Guide at home, but an even lower percentage (29%) had accessed it on the Internet.
The greatest source of healthy eating information was "none," at 53%, followed by "general research," at 24%. Only 8.7% of respondents said that the Guide was their information source for healthy eating.
Regarding respondents' knowledge of the actual information in the Guide, the majority (79%) knew that "vegetables and fruit" were the food group that one should eat the most servings of. However, approximately 10% of men thought that this food group was provided by eating "meat and alternatives," while a similar percentage thought that "grain products" were a source.
At the same time, almost 25% of respondents who used the Guide reported "much better" eating habits after six months, which was higher than that for respondents who used sources other than the Guide.
Limitations of the survey noted by the authors included the fact that the data was self-reported. Thus, respondents may have presented a more positive picture of both their knowledge of the Guide and their eating habits.
A need to translate awareness into usefulness
Most Canadians are aware of Canada's Food Guide. However, most do not use it, despite the fact that those who do use it derive significant benefit from it.  The next step is to fully leverage the Guide by using a greater range of communication channels, such as social media or videos, and by tailoring it to better complement the current eating habits of Canadians.
Written by Raymond Quan, MASc, MBA
Reference: Slater et al. "Are we really 'eating well with Canada's food guide?'" BMC Public Health (2018) 18:652