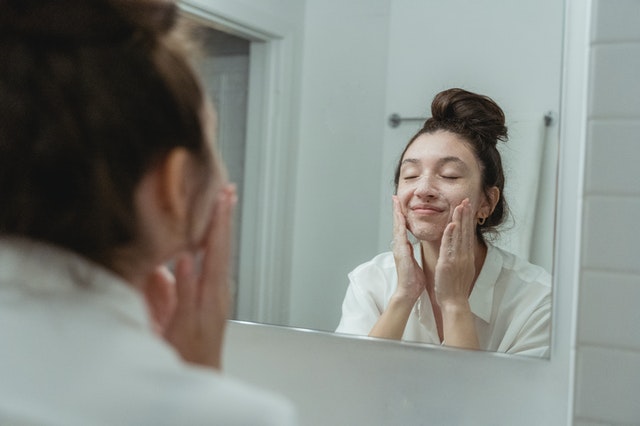 Rosacea is an extremely common skin disorder. In fact, around 415 million people worldwide are impacted by rosacea.1 Studies have shown that adult populations, aged between 45-60 years old are more commonly affected by this condition.1 What are some of the best treatments for rosacea?
Rosacea is more likely to affect people with lighter skin tones.2 This skin condition is characterized by extreme redness, and/or the appearance of spider veins and rash-like bumps on the face.2 There are many factors that can contribute to rosacea flare ups, as these often occur following immune responses. Rosacea can be often hereditary, and flare ups can happen with a variety of environmental factors that can stimulate the immune system. Some of these include hot or spicy foods, alcohol, sun exposure, exercise, or skin care products and cosmetics. Avoiding some of these triggers may help reduce the likelihood of a flare up.
Treating rosacea
There are many treatment options currently available for reducing inflammation related with rosacea. These can include natural or herbal remedies, as well as topical prescription treatments available at pharmacies.
1. Topical prescriptions
Common prescription treatments include brimonidine, which is a topical drug that can help reduce rosacea-related erythema, which is the red rash observed in patients. It does so by blocking some of the blood vessels that lead to the facial skin.3
2. Antibiotics
Treatment options for rosacea also include oral antibiotic therapies that are prescribed by physicians. These are used to primarily curb the inflammatory effects associated with rosacea. Some of these drugs include minocycline, doxycycline, and clindamycin.3 For cases of rosacea associated with bacteria or microbial growth, this might provide an effective treatment option. However, antibiotics have been associated with many side effects. It is very important to consult with a doctor before starting an antibiotic therapy, and to also ensure that the full round of antibiotic treatment is completed.
3. Azelaic acid
Azelaic acid is also used as common form of treatment. This topical treatment has anti-inflammatory and anti-bacterial effects.3 Azelaic acid can be used at varying concentrations, depending on skin sensitivity to this drug. Studies have shown that 15% azelaic acid can have much more significant improvements to rosacea related symptoms than antibiotic therapies for rosacea.4 However, since the immediate cause of rosacea is unknown, each individual can have different results when experimenting with treatment options. 
Azelaic acid can now be accessed more easily, as it is also found in skincare products available at drug stores or makeup stores. It can be purchased in the form of cleansing bars, overnight masks, and as toners. While rare, it is important to be cautious of side effects when using azelaic acid. These include acne, and severe reactions at the direct site of application (such as burning, tightness, and extreme irritation).6
4. Hyaluronic acid
Hyaluronic acid is also another commonly used product to help curb symptoms of rosacea. This acid is used with a variety of skin conditions, and many people often implement it in their daily skin care routines. In a 2013 study, patients with rosacea were treated with topical hyaluronic acid in the form of a salt cream.5 After 4 weeks of treatment, reductions in symptoms such as erythema, dryness and burning sensations were observed.5 Hyaluronic acid might provide an effective, yet simple treatment option. This is also available at makeup and drugstores as a skincare product, in the form of serums, creams, etc.
Natural treatment for rosacea
For more natural rosacea remedies, many patients often opt for products with hydrating and anti-inflammatory ingredients such as aloe vera, chamomile, turmeric, and more.7 Applying direct aloe vera is also commonly used in a variety of skin conditions or reactions. Studies have shown that aloe vera is effective in treating skin dryness and helping maintain over skin integrity.8
Overall, there are many options available to treat flare-ups associated with rosacea. These can include prescription antibiotic treatments, or natural remedies such as aloe vera application. However, since the root cause of rosacea has yet to be determined, it is important to note that everyone can have a different reaction to various forms of treatment. As such, it is important to always consult with a physician and take their advice when considering an effective form of treatment. Experimenting with different options at lower concentrations/doses might also help with finding something that works best for your skin.
References
1: Gether L, Overgaard LK, Egeberg A, Thyssen JP. 2018. Incidence and prevalence of rosacea: a systematic review and meta-analysis. Br J Dermatol. 179(2): 282-289.
2: Daou H, Paradiso M, Hennessy K, Seminario-Vidal L. 2021. Rosacea and the microbiome: a systematic review. Dermatol Ther (Heidelb). 11(1): 1-12.
3: Rivero AL, Whitfeld M. 2018. An update on the treatment of rosacea. Aust Prescr. 41(1): 20-24.
4: Elewski BE, Fleischer AB, Pariser DM. 2003. A comparison of 15% azelaic acid gel and 0.75% metronidazole gel in the topical treatment of papulopusular rosacea. Arch Dermatol. 139(11): 1444-1450.
5: Schlesinger TE, Powell CR. 2013. Efficacy and tolerability of low molecular weight hyaluronic acid sodium salt 0.2% cream in rosacea. J Drugs Dermatol. 12(6): 664-667.
6: Cunha JP. 2021. RxList. Retrieved from: https://www.rxlist.com/finacea-side-effects-drug-center.htm
7: Weinkle AP, Doktor V. Emer J. 2015. Update on the management of rosacea. Clin Cosmet Investig Dermatol. 8: 159-177.
8: Hekmatpou D, Mehrabi F, Rahzani K, Aminiyan A. 2019. The effect of aloe vera clinical trials on prevention and healing of skin wound: a systematic review. Iran J Med Sci. 44(1): 1-9.
Photo by Miriam Alonso from Pexels