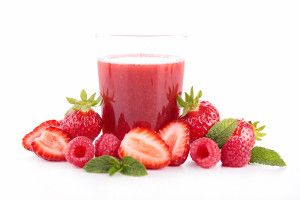 Study finds that juices containing high levels of polyphenols significantly reduce systolic blood pressure in hypertensive patients.
Fruit, in particular berries, contain high levels of polyphenols. Due to this high polyphenol content, a clinical trial published in the British Journal of Nutrition was designed to investigate whether drinking two polyphenol-rich juices per day could lower blood pressure. Participants for the study included 134 people between the ages of 50 and 70 years, either with blood pressure within the normal range (130/85–139/89 mmHg), or participants with hypertension (140/90–179/109 mmHg). As part of the study, the participants drank 500ml per day of one of three drinks. The first drink was a high polyphenol-content juice made up of red grapes, cherries, chokeberries, and bilberries. The second drink was a similar juice, however, it was enriched with polyphenols, while the third drink was a placebo drink with a low polyphenol content.
The study reported a significant decrease in systolic blood pressure over a 12-week period in participants who were drinking either of the high-polyphenol juices, compared with the placebo, low-polyphenol juice. This result was especially strong in participants with hypertension. The authors concluded that drinking juices containing high levels of polyphenols may have beneficial effects on reducing blood pressure in hypertensive patients.
Tjelle, TR, Holtung, L, Bøhn, SK, Aaby, K, THoresen, M, Wiik, SA, Paur, I, Karlsen, AS, Retterstøl, K, Iversen, PO, Blomhoff, R. "Polyphenol-rich juices reduce blood pressure measures in a randomised controlled trial in high normal and hypertensive volunteers" British Journal of Nutrition Volume 114, Issue 07, October 2015, pp 1054-1063
Written by Deborah Tallarigo, PhD