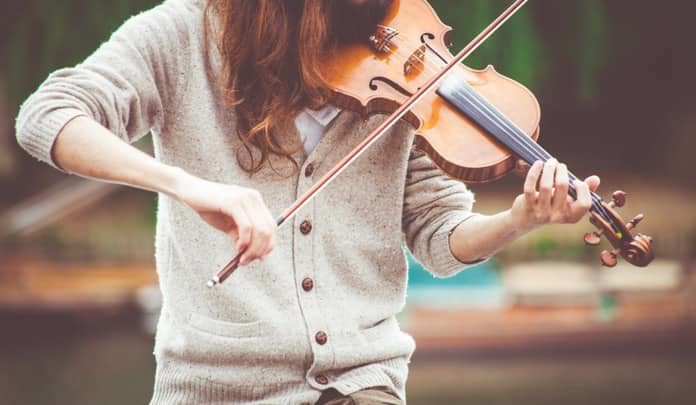 Studies have shown that musical interventions have a positive impact on our physical health. A recent review published in Perspectives in Public Health looked at whether the benefits of music also apply to our mental wellbeing.
Ways to improve our physical health and well-being are constantly being investigated and the results often contribute to the development and implementation of policies that support positive strategies. Similar investigations are underway for improving our subjective well-being, a term that encompasses various aspects of our mental wellbeing, such as how satisfied we are with life, how worthwhile we feel, and whether we feel anxious or happy. Surveys of the United Kingdom (UK) population have identified that participating in cultural activities has positive effects on subjective well-being.
Since there is considerable evidence demonstrating the benefits of music for health, the impact of music on subjective well-being was recently examined as part of a review into Culture, Sport and Wellbeing commissioned by the What Works Centre for Wellbeing in the UK. The review, published in Perspectives in Public Health, retrieved literature published in any language from electronic databases to determine whether a range of musical interventions, including singing, listening to music, and playing musical instruments, could benefit subjective well-being in students, targeted adult populations, and older adults. Researchers considered all genres of music and excluded studies involving music professionals or those in which music was used to manage pain.
Only 61 studies adhering to the inclusion criteria were identified. The studies differed greatly in terms of design and in how they measured subjective well-being. Unfortunately, the reviewers found it difficult to form general conclusions regarding the benefits of music on subjective well-being for many reasons. The studies used a range of different musical interventions, often at a single site. The duration of the interventions differed between studies, and the long-term effects of the interventions were rarely assessed. The size of the studies ranged dramatically from as little as nine participants up to 750 participants. Another common problem was the difficulty in measuring noteworthy improvements to subjective well-being because the baseline measures were often not low enough, possibly because very few marginalized communities were studied.
Despite these difficulties, the reviewers were able to identify evidence demonstrating the positive benefits of music on subjective well-being. The most common interventions involved listening to a range of musical genres (although hard rock did not reduce anxiety) and regular group singing. Interestingly, although musical intervention reduced or prevented depression across all age groups, music affected different aspects of wellbeing in different target groups. Music helped ease anxiety and improved mood in students, pregnant women, and prisoners. Mood, purpose, and mental wellbeing improved in healthy adults, and people with chronic health problems found it easier to cope and felt their quality of life improved following musical interventions. Healthy older adults reported that music helped improve quality of life and prevented feelings of isolation; however, music did not always benefit older adults with diagnosed health conditions or risk factors.
Overall, the reviewers concluded that the benefits of music also apply to the subjective well-being of adults. However, due to the limitations of the available literature, they recommend further research into this area. Future studies should examine the interplay between diverse social and individual factors with a particular emphasis on factors that may influence wellbeing. Once these important issues are adequately addressed, policies can be designed to support mental wellbeing through musical interventions.
Written by Natasha Tetlow, PhD
Reference: Daykin N, Mansfield L, Meads C, et al. What works for wellbeing? A systematic review of wellbeing outcomes for music and singing in adults. Perspect Public Health. [published online ahead of print November 1, 2017]. Available from: doi: 10.1177/1757913917740391