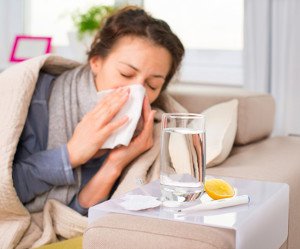 While the first thing you might do when you start to get the flu is reach for some acetaminophen pills to reduce associated symptoms, a recent study finds that this might not be the best course of action.
As we enter flu season, it is important to know the steps to take in treating the symptoms should you become infected with the influenza virus. How can symptoms be treated? What are the best ways to reduce fever? These are some of the key questions you might ask when faced with an influenza infection.
Current standard recommendations are to control influenza-associated fever by taking drugs to reduce fever, such as acetaminophen. However, research studies have found that use of such medications can actually have negative effects in animal models. A group of researchers from Wellington, New Zealand, therefore designed a study to assess the effects of acetaminophen on patients with influenza.
The researchers recruited patients between 18 and 65 years of age who were tested and diagnosed with influenza. The patients were then randomly allocated to receive either 1g of acetaminophen, four times daily, or a placebo, for a period of 5 days.
The researchers found that scores for symptoms, temperature, and length of illness were all the same, whether the patients were taking acetaminophen or not. They concluded that taking acetaminophen had no effect on clinical symptoms, temperature, or viral shedding in patients with influenza, casting doubt on the use of acetaminophen in the treatment of influenza-associated symptoms. The researchers state that more study is necessary to further clarify the role of such medication in the treatment of patients with influenza.
Jefferies, S., Braithwaite, I., Walker, S., Weatherall, M., Jennings, L., Luck, M., Barrett, K., Siebers, R., Blackmore, T., Beasley, R., Perrin, K. and Pi Study Group (2015), Randomized controlled trial of the effect of regular paracetamol on influenza infection. Respirology. doi: 10.1111/resp.12685
Written by Deborah Tallarigo, PhD