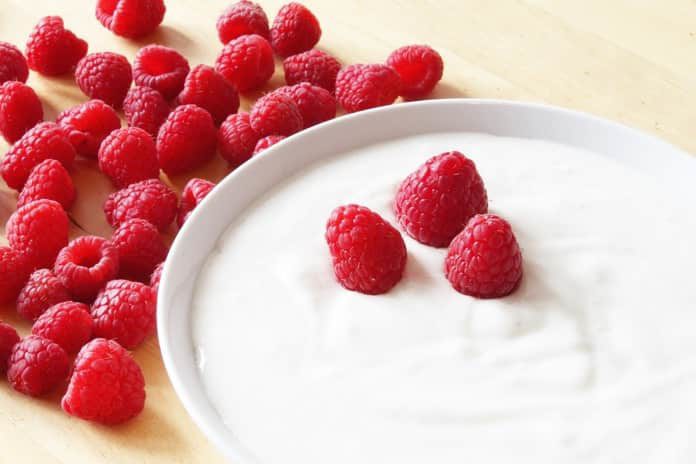 Um estudo recente analisou o efeito dos iogurtes magros nos biomarcadores de inflamação crónica em indivíduos com peso dentro dos parâmetros normais e indivíduos obesos.
A obesidade continua a ser um problema de saúde pública e está associada a  doenças crónicas, tais como a doença cardiovascular, a diabetes e alguns tipos de cancro. Estudos anteriores demonstram que a bactéria intestinal em indivíduos obesos é diferente daquela presente em indivíduos de peso normal. Para além disso, a obesidade está também associada a níveis crónicos de inflamação. Tal significa que o sistema imunitário de indivíduos com peso severamente acima dos parâmetros normais é constantemente ativado causando danos ao corpo.
Poderá o iogurte reduzir a inflamação?
Investigadores da University of Wisconsin-Madison College of Agricultural and Life Sciences, nos Estados Unidos da América, publicaram um estudo no British Journal of Nutrition que incluiu 120 indivíduos, dos quais 60 tinham peso normal e 60 eram obesos. O objetivo deste estudo foi avaliar o efeito do consumo de iogurte magro nos níveis de inflamação em mulheres. Foi dado iogurte de forma aleatória a metade dos participantes, e à outra metade foi dado iogurte de soja (sem lacticínios). Os participantes foram instruídos para que comessem 339 g por dia durante nove semanas e que fossem feitas análises de sangue periodicamente para testar os níveis dos marcadores de inflamação.
O consumo de iogurte reduz os biomarcadores de inflamação
Os resultados mostraram mudanças significativas. Tanto os participantes obesos como os não obesos mostraram reduções nos níveis de TNF-alpha e LBP, marcadores de inflamação. Em adição, ambos os grupos mostraram um aumento dos anticorpos IgM que reduzem a inflamação, assim como o aumento de outras moléculas que têm um papel inibidor no sistema imunitário. O grupo de participantes obesos a quem foi dado o iogurte mostrou a redução da pressão arterial.
Este estudo teve no entanto várias limitações: a dieta era auto-relatada, existindo sempre a possibilidade de que sejam alterados os fatos. Tal foi evidente visto que os indivíduos obesos ganharam em média cerca de 1 kg durante o período do estudo, sendo que os relatos apresentados não mostraram provas que resultassem em ganho de peso. Outra limitação é o fato deste estudo ter analisado apenas mulheres, sendo que os mesmos efeitos podem não ser observados em indivíduos do sexo masculino. Além do mais, é possível que os resultados no sistema imune e na inflamação crónica sejam um resultado do consumo de lacticínios em geral, e não específico do iogurte.
O consumo de iogurtes magros pode ajudar à redução de inflamação crónica em indivíduos obesos
Este estudo prova que o consumo de iogurte magro pode ajudar indivíduos obesos na redução da inflamação crónica. A saúde intestinal é crucial para a saúde humana e qualquer alimento que possa ajudar ao bem estar público deve ser investigado. É necessária mais investigação para identificar quais os componentes do iogurte que afetam o sistema imunitário de forma direta, e se estas alterações são significativas para os que sofrem de obesidade e síndrome metabólica.
Escrito por Elena Popadic
Traduzido por Ângela Carvalho, PgC
Referências:
Pei, R., DiMarco, D., Putt, K., Martin, D., Gu, Q., & Chitchumroonchokchai, C. et al. (2017). Low-fat yogurt consumption reduces biomarkers of chronic inflammation and inhibits markers of endotoxin exposure in healthy premenopausal women: a randomised controlled trial. British Journal Of Nutrition, 1-9. http://dx.doi.org/10.1017/s0007114517003038
Correção: 22 de Janeiro, 2018
Uma versão anterior deste artigo mencionou de forma errada que o estudo foi conduzido por "cientistas no Reino Unido". Este estudo foi na realidade levado a cabo independentemente por investigadores da University of Wisconsin-Madison College of Agricultural and Life Sciences, nos Estados Unidos da América.